Stocks claw out gains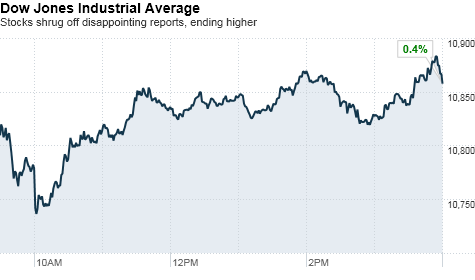 NEW YORK (CNNMoney.com) -- U.S. stocks finished higher Tuesday as a drop in consumer confidence and a mixed reading on home prices failed to sink recovery hopes.
The Dow Jones industrial average (INDU) climbed 46 points, or 0.4%, the S&P 500 (SPX) added 5.5 points, or 0.5%, and the Nasdaq (COMP) gained 10 points, or 0.4%.
After rallying for a fourth straight week last week, stocks slipped from 4-month highs and ended the day lower Monday amid a flurry of deal-making activity and ongoing economic jitters.
Despite a disappointing report on consumer morale early Tuesday that initially sent stocks tumbling, investors haven't given up hope that a recovery is gradually gaining pace, said Mark Luschini, chief investment strategist at Janney Montgomery Scott.
"The sentiment is that economic data has not necessarily improved significantly from summer months, rather it has stopped showing signs of deterioration," said Luschini. "But that's enough for some people to suggest that the risk of a double-dip recession is receding."
Economy: The Consumer Confidence Index dropped to 48.5 in September from a downwardly revised 53.2 in August, the Conference Board reported. Economists had been expecting the number to edge to 53. The index is a far cry from 90 -- a level that typically indicates a stable economy.
"This is further evidence that the consumer is still not feeling particularly upbeat about what they see going on in the market or in the foreseeable future, which obviously impacts their spending behavior," said Luschini. "That's enough to hold markets back."
But the disappointing reading on consumer morale was countered by a slightly encouraging report on home prices.
The Case-Shiller 20-city home price index showed home prices inched up 0.6% in July compared with June, according to the S&P/Case-Shiller 20-city home price index. On a year-over-year basis, prices rose 3.2% compared with July 2009. Experts polled by Briefing.com had forecast a year-over-year rise of 3.3%.
"It wasn't robust, but the [reading] represents more normalized traffic coming into the market, which is helping to put a floor into housing prices," said Luschini. "It's too soon to suggest a recovery in the housing market, but this at least suggests we're bringing some stability to this beleaguered but critical area of the economy."
Stuck in a rut?: While a double-dip recession may be becoming less of a concern, it's going to take more than a slew of lackluster economic readings to push the market significantly higher, said Ron Kiddoo, CIO at Cozad Asset Management.
"We've had a good move up this month and economic readings have been slowly getting better," he said. "But we still need to see much better economic numbers, and that just isn't happening."
With midterm elections around the corner and as investors await the government's closely-watched jobs report on tap next week, political and economic uncertainty is likely to keep stocks in a tight trading range.
"I don't expect [economic] numbers to get a lot better for a while, which could mean the remainder of the calendar year," said Kiddoo. "Attempts of government spending and bringing in jobs aren't working and businesses are spending a lot of cash and doing well but are afraid to invest because they don't know what the future is going to bring in terms of taxes and legislation."
Companies: AOL (AOL) shares gained nearly 3% after the media giant announced plans to acquire news outlet TechCrunch.
Shares of Barnes & Noble (BKS, Fortune 500) closed slightly higher after the bookseller said shareholders rejected investor Ronald Burkle's bid to expand his ownership of the company.
Meanwhile, BlackBerry maker Research in Motion (RIMM) on Monday unveiled the PlayBook, a new tablet computer to compete with Apple's (AAPL, Fortune 500) iPad.
Shares of RIM slipped 3% Tuesday, and the stock is down about 30% this year due to concerns that the company is falling behind Apple, as well as smartphone makers using Google's (GOOG, Fortune 500) Android operating system.
Shares of Walgreens (WAG, Fortune 500) surged more than 11% after the drugstore chain reported its fiscal fourth-quarter revenue rose 7.4% to a record $16.9 billion, driven by strong prescription drug sales. The company's quarterly earnings rose 7.8% to $470 million, or 49 cents per share.
World markets: European stocks ended mixed. Britain's FTSE 100 edged up 0.1%, France's CAC 40 lost 0.1%, and Germany's DAX was flat.
Early Tuesday, European markets tumbled after a Spanish newspaper pointed out that Moody's deadline for reviewing its investment grade AAA credit rating for Spain runs out this week. The country could be facing a downgrade due to its sovereign debt troubles.
Asian markets ended the session in negative territory. Japan's Nikkei and the Hang Seng in Hong Kong each lost more than 1%. The Shanghai Composite fell 0.6%.
Currencies and commodities: The dollar fell against the euro and the Japanese yen, but rose versus and British pound.
Gold futures for December delivery surged $9.70 to settle at a new record of $1,308.30 an ounce, after hitting an all-time intraday trading high of $1,311 earlier Tuesday.
The price of crude oil for November delivery fell 34 cents to settle at $76.18 per barrel.
Bonds: Prices for U.S. Treasurys rose, with the yield on the 10-year note falling to 2.47% from 2.53% late Monday. Bond prices and yields move in opposite directions.