Stocks sag ahead of monthly jobs report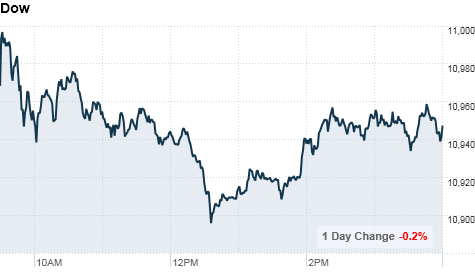 NEW YORK (CNNMoney.com) -- Stocks finished mixed after a sluggish session Thursday afternoon, as cautious investors paused and geared up for the monthly jobs report due Friday.
The Dow Jones industrial average (INDU) closed down 19 points, or 0.2%. The blue chip index started off the day with a pop and was less than 2 points shy of the 11,000 mark, a level it hasn't traded at since May. But the Dow drifted as the session wore on and sank almost 75 points before recovering.
The S&P 500 (SPX) lost 2 points, or 0.2%, while the tech-heavy Nasdaq (COMP) added 3 points, or 0.1%.
Stocks surged earlier this week, with all three major indexes hitting 5-month highs. But investors have had trouble keeping up that momentum, as reports showed continued weakness in the labor market.
Some of that sentiment briefly lifted Thursday morning as weekly jobless claims fell to a 3-month low, but traders remain wary ahead of the the true test -- Friday's monthly payrolls report.
"We're likely to have a muted day on Wall Street because the of September jobs report coming up tomorrow," said Timothy Ghriskey, chief investment officer at Solaris Asset Management. "We still have incredible weakness in the job market, so there is some concern leading up to the numbers."
According to a consensus of economists polled by Briefing.com, the number of jobs is expected to remain flat in the upcoming monthly report. At the same time, the unemployment rate is expected to have ticked up to 9.7% from 9.6%.
Ghriskey added that investors will also be cautious as companies begin reporting third-quarter financial results.
While PepsiCo (PEP, Fortune 500) reported results in line with forecasts before the bell Thursday, Ghriskey said the company's performance is not as reflective of broader economic conditions as a company like aluminum maker Alcoa (AA, Fortune 500). Alcoa, which delivered results after the market close Thursday, will also be in focus during Friday's trading session.
Stocks also felt some pressure Thursday afternoon as the dollar gained ground. Though it remained broadly weaker, the buck clawed back and rallied against the euro, which had climbed above $1.40 earlier Thursday. It also moved higher versus the pound.
The dollar index, which measures the greenback against a basket of rival currencies, gained almost 0.4% before easing back.
Economy: The initial jobless claims number was the lowest in nearly 3 months, providing a breath of fresh air to the market. The Labor Department on Thursday reported that jobless claims totaled 445,000 in the week ended Oct. 2 -- down 11,000 from the prior week.
Economists were expecting the government to report 455,000 Americans filed for unemployment for the first time last week, pointing to continued weakness in the job market.
Investors are also eyeing retailers' September same-store sales figures Thursday for indications about consumer spending. Thomson Reuters, which tracks same-store sales for a group of 28 national chains, said total sales for the group rose 2.8% in September -- better than its initial forecast of a 2.1% gain in the month.
Companies: Rumors that Apple (AAPL, Fortune 500) is preparing a version of its iPhone for Verizon (VZ, Fortune 500) -- the phone is currently only carried by AT&T (T, Fortune 500) -- started swirling again, after the Wall Street Journal published a report saying the phone may be on shelves early next year. Apple's stock edged higher as Verizon's slipped.
PepsiCo (PEP, Fortune 500) was the first major company to report third-quarter results Thursday. Pepsi earned $1.22 per share during the quarter, in line with analysts' forecasts and up 13% from the year-ago quarter. But the beverage giant reduced the higher end of its profit outlook for the the year. Pepsi decreased about 3%.
Alcoa (AA, Fortune 500) was the first Dow component to report results. The aluminum giant raked in $61 million, or 6 cents per share. Excluding certain items, Aloca brought in 9 cents per share, topping forecasts for earnings of 5 cents per share. Sales rose 15% to $5.3 billion, beating expectations for $4.96 billion in revenue.
Adobe (ADBE) shares jumped almost 12% late Thursday after a New York Times blog reported a Microsoft (MSFT, Fortune 500) team, including chief executive Steve Ballmer, held a secret meeting with Adobe CEO Shantanu Narayen on a number of topics including the possibility of a merger between the two tech giants.
World markets: European shares finished mixed. Britain's FTSE 100 fell 0.3%, while the DAX in Germany and France's CAC 40 closed with slight gains.
Asian markets were also flat. Japan's Nikkei index and the Hang Seng in Hong Kong both finished little changed. The Shanghai Composite is closed for a week-long holiday.
Currencies and commodities: As investors anticipate another round of asset purchases from the Federal Reserve, the dollar has continued to fall against the Japanese yen.
But the greenback climbed higher against the euro and the pound after suffering sharp declines Thursday.
As the dollar gained ground, commodity prices fell under pressure.
Gold futures for December retreated from record territory. The precious metal's price fell $12.70 to settle at $1,335.00 an ounce. It had touched a new intraday high of $1,366 an ounce earlier.
The price of crude oil for November delivery decreased $1.56 cents to settle at $81.67 per barrel.
Bonds: Despite the bid for safer investments, Treasury prices were flat. The yield for the benchmark 10-year U.S. Treasury held steady at 2.40%.