Dow slumps on bank woes, but tech shares rally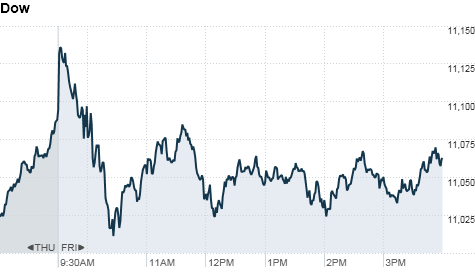 NEW YORK (CNNMoney.com) -- Stocks ended mixed Friday as weakness in the banking sector dragged on the Dow, while technology shares stayed strong.
The Dow Jones industrial average (INDU) fell 32 points, or 0.3%, to close above 11,000 points. The S&P 500 (SPX) added 2%, or 0.2%. The Nasdaq (COMP) jumped 33 points, or 1.4%.
Despite Friday's mixed performance, all three major gauges posted gains for the week. The Dow added about 0.5% over the last 5 trading days, while the S&P rose 0.8% and the Nasdaq surged 2.6%.
It was the second week in a row that stocks rose.
Stocks opened higher Friday after Ben Bernanke, chairman of the Federal Reserve, said the central bank has "a case for further action" to stimulate the economy, citing high unemployment and low inflation.
But the tone cooled as investors digested a bevy of economic reports, including ones showing an increase in consumer spending, a decrease in consumer sentiment, and tame inflation data.
Bank stocks were among the worst performers, as foreclosure practices have come under fire from state and federal regulators. Many banks have halted foreclosures in parts of the country to investigate foreclosure cases where documents were not filed properly, and some regulators are pushing for a nationwide freeze.
JPMorgan (JPM, Fortune 500), Bank of America (BAC, Fortune 500) and Wells Fargo (WFC, Fortune 500) fell between 3% and 5% today.
"The market is trying to assess the bank situation," said Quincy Krosby, market strategist with Prudential Financial. "It does look as if it's more headline risk as opposed to a material one so far. But we need more clarity on how it could affect the bottom line."
Meanwhile, the technology sector was a bright spot. Google led the way higher after the tech giant reported strong quarterly earnings late Thursday, generating some upbeat comments from analysts. Shares of the tech giant were up 11% to $601.45. It was the first time since January that the stock passed $600.
On the Dow, Hewlett Packard (HPQ, Fortune 500), Cisco (CSCO, Fortune 500) and Microsoft (MSFT, Fortune 500) were the best performers.
The dollar recovered some ground against other currencies, but remained weak. Gold and oil prices fell.
Stocks closed with modest losses Thursday, as weakness in bank stocks dragged on the broader market.
Looking ahead, traders said the focus next week will be on earnings, with 7 blue-chip Dow companies due to report quarterly results.
IBM (IBM, Fortune 500), Bank of America (BAC, Fortune 500), Johnson & Johnson (JNJ, Fortune 500), Caterpilar (CAT, Fortune 500), McDonald's (MCD, Fortune 500), American Express (AXP, Fortune 500) and Verizon (VZ, Fortune 500) are all on the earnings calendar.
Meanwhile, economic reports due out next week include housing starts and building permits, as well as data on industrial production and capacity utilization.
Fed: Bernanke, speaking in Boston, said persistently high unemployment poses too great a threat to the economy, and that the central bank needs to weigh the risk of weak prices, rather than focus on its traditional concerns about inflation.
The comments appeared to set the stage for the Fed to announce plans to buy more Treasurys at its next meeting in November.
The move, known as quantitative easing, or QE for short, is designed to aid the economy by lowering long-term interest rates. It would also further weaken the U.S. dollar, which has plunged against other currencies in recent weeks.
But the Fed chief did not provide any specifics on the program.
"We're still no closer to knowing exactly what the so-called QE2 program might involve, in particular what amount of Treasury securities the Fed could end up buying," said Paul Ashworth, an economist at Capital Economics.
Nevertheless, many investors took the speech as further evidence that the Fed is willing to provide additional easing of monetary policy.
"Bernanke left nothing uncertain about the prospects for further QE," said Mark Luschini, chief investment strategist at Janney Montgomery. "It's not a question of if it's going to happen, but more how it will be implemented."
Companies: Dow component GE (GE, Fortune 500) reported quarterly earnings Friday of $3.2 billion or 29 cents per share. Analysts were expecting the company to have earned 27 cents per share, up from 22 cents a year ago. But the company reported a bigger revenue drop than expected, sending GE's stock down 5%.
Toymaker Mattel (MAT, Fortune 500) also announced third-quarter earnings that beat the Street. But the company widely missed estimates on revenue. Shares fell 6.3%.
Seagate Technology (STX) gained 22% on speculation the disk drive maker is a takeover target.
Economy: Friday also brought a slew of economic reports.
The government released its latest report on the consumer price index, which is a measure of inflation. CPI is increased 0.1% in September, less than the 0.2% prediction from a consensus poll by Briefing.com.
Core CPI -- which strips out volatile food and gas prices -- stayed flat, while analysts expected it to have inched up 0.1%.
The Commerce Department also reported on retail sales before the start of trade. Sales gained 0.6% to $367.7 billion in September, compared with August's upwardly revised 0.7% jump. Economists had anticipated that September sales would grow 0.4%.
Despite the better-than-expected gain in retail sales, a separate report showed that consumer sentiment has been weaker than expected so far this month.
The University of Michigan's consumer sentiment index for early October fell to 67.9, down from 68.9 last month. Economists were expecting the index to rise to 68.5.
The U.S budget deficit totaled $1.3 trillion in fiscal year 2010, slightly smaller than the prior year, Treasury Department said.
World markets: European markets ended mixed. Germany's DAX rose 0.6%, while the CAC 40 in Paris edged up 0.2%. Britain's FTSE 100 fell 0.4%.
In Asia, stocks closed mixed. The Hang Seng in Hong Kong fell 0.4% and Japan's Nikkei fell 0.9%. The Shanghai Composite gained 3.2%.
Commodities and Currencies: The dollar rose against the euro and the British pound, but was flat versus the Japanese yen.
Gold futures for December delivery fell $5.60 to settle at $1,372 an ounce.
The price of oil fell $1.30 to close at $81.39 per barrel.
Bonds: The price rose on the benchmark 10-year U.S. Treasury, pushing the yield down to 2.57%.