Stocks end at fresh 2-year highs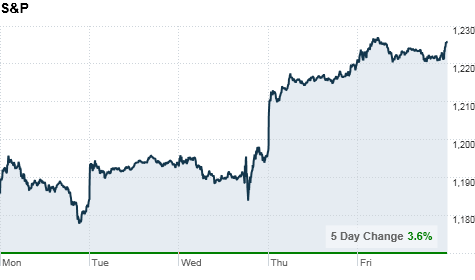 NEW YORK (CNNMoney.com) -- U.S. stocks wavered Friday but ended with slight gains, as investors digested a strong jobs report at the end of a week full of big economic news. All three major indexes closed at fresh two-year highs and the Dow and S&P logged their biggest weekly gains in more than two months.
The Dow Jones industrial average (INDU) added 9 points, or 0.1%, to end at 11,444, the highest close since Sept. 8, 2008. The blue chip index jumped 2.9% during the week.
The S&P 500 (SPX) rose 5 points, or 0.4%, to 1,226, the highest level since Sept. 19, 2008. The broad index increased 3.6% during the week. The tech-heavy Nasdaq (COMP) added 2 points, or 0.1%, and finished the week up 2.9%, at 2,579, the highest since Jan. 3, 2008.
Stocks staged a major rally Thursday, a day after the Federal Reserve announced plans to pump $600 billion into the economy. All three main indexes finished at their highest levels since at least September 2008 -- the same month Lehman Brothers collapsed.
The labor market has been a focal point for investors hoping for recovery, but Friday's reaction was muted as investors reaped profits after the previous day's advance.
"I'm surprised the response isn't better, but a lot of money was put to work Thursday and stocks were up sharply, so it's not unusual for investors take a pause," said Tom Schrader, managing director at Stifel Nicolaus.
Despite a quiet end to the week, stocks posted their biggest weekly gains in about two months, as investors welcomed clarity following the midterm elections and the Fed's announcement.
As expected, the midterm elections on Tuesday resulted in big gains for the Republican party, which won control of the House by capturing at least 60 seats.
The shifting balance of power on Capitol Hill is largely seen as a positive for Wall Street, since Republican lawmakers are viewed as more business friendly and fiscally conservative than their Democrat rivals.
But the most-anticipated news of the week came Wednesday afternoon, when the Federal Reserve said it will buy $600 billion in U.S. Treasuries by the middle of next year to stimulate the economy.
Stocks had been climbing since the end of August, when the Fed first hinted at its plan for a second round of so-called quantitative easing, but fell into a tight range in the weeks leading up the Fed's meeting.
Economy: The U.S. added 151,000 jobs in October and the unemployment rate holds at 9.6%, the Labor Department says. The private sector grew by 159,000 jobs.
A consensus estimate from analysts polled by Briefing.com expected employers to have added 60,000 jobs in October after cutting payrolls by 95,000 the month before.
The National Association of Realtors said pending home sales fell 1.8% in September. Economists were expecting the report to show 2.5% uptick in sales. But pending home sales only indicate contracts being signed and not actual closed purchases.
The Federal Reserve reported consumer credit increased for the first time in eight months, rising at an annual rate of 1.1% in September to $2.41 trillion.
Companies: Shares of Starbucks (SBUX, Fortune 500) jumped 3.8% after the coffee chain reported a fiscal fourth-quarter profit of $278.9 million, or 37 cents per share. Starbucks, which was among the Nasdaq's top gainers, also boosted its fiscal year earnings guidance.
The news came as Starbucks said that it will no longer use Kraft Foods (KFT, Fortune 500) to distribute its coffee to grocery stores across the U.S.
Kraft was among the Dow's biggest losers Friday, with shares slipping 2.2%, after it posted a third-quarter profit that fell 8% to $754 million and missed expectations. Though Kraft's revenue rose 26% during the quarter, it wasn't enough to offset the company's increased spending.
AIG (AIG, Fortune 500) reported a loss of $2.4 billion, citing costs associated with the sale of certain insurance units that it needed to divest in order to repay the U.S. government. AIG's stock was rose 1.9%.
Toyota (TM) reported strong sales for the six months ending Sept. 30, posting a net income of $3.6 billion despite the negative impact of the stronger yen. The company attributed the earnings jump to cost-cutting measures. The report comes a day after Toyota reported a drop in monthly auto sales. The auto company's stock edged down 0.1%.
DISH Network (DISH, Fortune 500) reported an 11% rise in revenue to $3.21 billion and said it earned 55 cents a share. That was better than the 42 cents a share that analysts expected. Sales also topped forecasts, which called for the satellite TV provider to report revenue of $3.15 billion. Shares rose 0.6%.
World markets: European stocks ended mixed. Britain's FTSE 100 gained 0.2% and the DAX in Germany rose 0.4%. France's CAC 40 edged lower.
Asian markets ended the session higher. The Shanghai Composite was up 1.4%, while the Hang Seng in Hong Kong was up by 1.4%. Japan's Nikkei also rose 2.9%.
The Bank of Japan announced it would maintain its low interest rates, leaving the overnight call rate at between zero and 0.1%.
Currencies and commodities: The dollar strengthened against the euro, British pound, and the Japanese yen
Oil for December delivery gained 36 cents to settle at $86.85 a barrel.
Gold futures for December delivery rose $14.60 cents to settle at a record $1397.70 an ounce, retreating from an earlier intraday record high of $1398.70 an ounce.
Bonds: The price on the benchmark 10-year U.S. Treasury fell, pushing the yield up to 2.54% from 2.48% late Thursday.