Stocks headed for a mixed open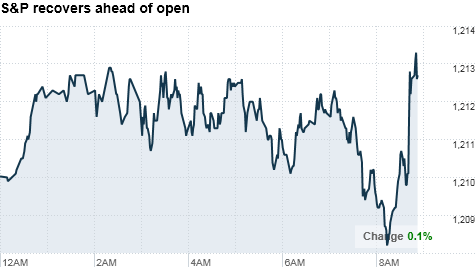 NEW YORK (CNNMoney.com) -- U.S. stocks were headed for early gains Wednesday, as investors reacted to better-than-expected economic data.
Dow Jones industrial average (INDU), S&P 500 (SPX) and Nasdaq (COMP) futures were drifting on either side of breakeven, but gaining support ahead of the opening bell. Futures measure current index values against perceived future performance.
Investors were digesting reports on U.S. trade balance and jobless claims. But they remain jittery ahead of the G-20 meeting, which starts Thursday. Worries about sovereign debt continue to underpin sentiment and could keep stocks trading in a tight range this week.
Stocks ended lower Tuesday, as investors also continued to grapple with the Federal Reserve's latest effort to stimulate the economy. The gold rush pressed forward as the precious metal hit another record high, along with several other commodities.
Economy: The number of people filing for initial jobless benefits plunged to 435,000 last week, according to the Department of Labor -- the lowest number in four months and much better than expected.
The number of Americans filing new claims for unemployment last week was forecast to fall to 450,000, from 459,000 in the previous week, according to a consensus of economists surveyed by Briefing.com.
U.S. trade balance contracted by 5.3% in September, narrowing to $44 billion, according to the Commerce Department. It was expected to have narrowed to $44.8 billion in September, from $46.3 billion in August.
The October Treasury budget is on tap for Wednesday afternoon.
Companies: Macy's (M, Fortune 500) reported a quarterly profit of 2 cents per diluted share, an improvement from its loss of 8 cents per share a year ago. Macy's increased its earnings guidance for the second half of the year. The stock edged up 1% in pre-market trading.
General Motors, which is readying a $13 billion initial public offering, reported third-quarter net income of $2 billion on revenue of $34.1 billion. The results marked the automaker's best quarter in at least six years. GM also said it expects to "post a solid and profitable first year post-bankruptcy."
After the closing bell, network equipment maker Cisco (CSCO, Fortune 500) is expected to post earnings of 40 cents per share, up from 36 cents per share a year ago.
World markets: European stocks edged lower in midday trading. Britain's FTSE 100 lost 0.6%, the DAX in Germany declined by 0.5% and France's CAC 40 slipped 0.8%.
Asian markets ended the session mixed. The Shanghai Composite dropped 0.6% and the Hang Seng in Hong Kong lost 0.9%, while Japan's Nikkei rose 1.4%.
Currencies and commodities: The dollar lost ground against the euro and British pound, but strengthened against the Japanese yen.
Oil for December delivery gained 2 cents to $86.74 a barrel.
Gold futures for December delivery fell $14.10 to $1,396 an ounce, backing off from its record high achieved on Tuesday.
Bonds: The price on the benchmark 10-year U.S. Treasury fell, pushing the yield up to 2.73% from 2.66% late Tuesday. The Federal Reserve is expected to unveil the schedule for the first $100 billion of Treasuries it plans to buy under its $600 billion plan.