Make Money in 2011: Your Job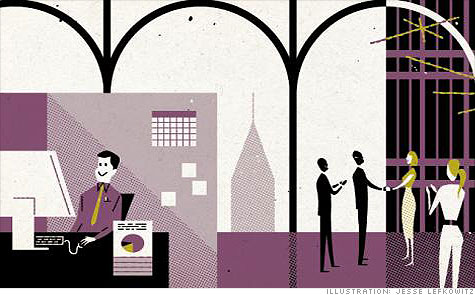 NEW YORK (MONEY Magazine) -- If you've made it this far into the toughest job market in decades without being laid off, chances are you're out of the danger zone.
"While businesses may not be hiring a whole lot next year, they won't be firing a whole lot either," says economist Joel Naroff.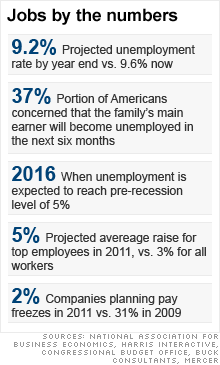 Most economists agree that the worst is behind us, and that new job creation will pick up modestly as the year wears on. But worries about the slowpoke economy and the possibility of a double dip will keep companies from adding enough positions to make a serious dent in joblessness.
The consensus among 46 forecasters recently surveyed by the National Association for Business Economics is that the unemployment rate will end 2011 around 9.2%, from 9.6% now. It'll take another six years for unemployment to get back to pre-recession levels, according to estimates by the Congressional Budget Office.
Still, if you're a valued employee, the outlook is much brighter, as employers will focus on retaining and developing top talent rather than new hiring.
"Raises are back and for good reason," says Catherine Hartmann, a principal with Mercer's rewards consulting business. "The risk of losing key employees is top of mind as the economy recovers."
Nearly all companies intend to increase salaries this year -- by an average of 3%, according to Buck Consultants -- and to reward the best and the brightest with pay hikes nearly double the going rate. More employees can look forward to bonuses, too, with the amounts awarded going up.
Meanwhile, the draconian cost-cutting measures adopted during the downturn are becoming history: Nearly all companies that slashed their 401(k) match say they will have restored all or a portion of it by next summer, according to Towers Watson. Salary freezes are fading fast too, the Buck survey found.
If you're among the 14.8 million Americans who are still unemployed, however, 2011 continues to look bleak, but not hopeless. Though little new hiring is planned for the first half, openings should expand later in the year -- as long as the economy encounters no major hiccups.
WILDCARDS: A double-dip recession would put the brakes on any gains, says California State University Channel Islands economist Sung Won Sohn. Mass layoffs won't necessarily return, but raises and bonuses could suffer.
If Congress passes a new stimulus for small businesses -- most likely by making it easier for firms to borrow -- hiring could exceed forecasts.
WHAT TO WATCH: Track the monthly jobs report from the Bureau of Labor Statistics at bls.gov. The forecasted pickup of 153,000 jobs a month on average (fewer than 150,000 early in 2011, as many as 175,000 late in the year) should bring the unemployment rate down to 9.2% by the end of 2011.
ACTION PLAN 1: Angle for that promotion. Tired of meekly accepting skimpy raises (or none at all) because you're grateful just to keep your job? If you're a valued employee, this is the year to press for more.
"Employers will be looking more than ever to differentiate between star performers and people who are contributing, but not at a high level," says New York City executive coach Alicia Whitaker.
Up to half of companies that are changing how and when they award raises have reallocated merit funds to give more to top performers than regular Joes and Janes; less than 10% used this strategy a year ago, according to Buck.
And as always, the best way to earn a big raise is to get promoted. Those pay bumps are budgeted for about 7% on average -- vs. 3% for the usual merit raise.
How to get ahead in this environment? Schedule separate meetings with your boss and a mentor to discuss your prospects for advancement. Be prepared to outline noteworthy accomplishments that helped the company (especially if they added to the bottom line) and specific contributions you hope to make in the future. And make the moves that follow.
Develop a new expertise. In planning compensation for next year, employers say "specialized industry knowledge" is the top reason they'll offer a bonus.
"People could become obsolete very quickly if they don't keep learning," says Whitaker. If you work in health care, make yourself familiar with the health care overhaul.
In finance, a deep knowledge of how the new reforms apply to your product could set you apart. Master the latest in your industry, whether it's technology solutions or marketing tools, even if your company has yet to adopt them.
ACTION PLAN 2: Toot your own horn. Keep a portfolio of your best work to bring to your annual review, including testimonials like thank-you notes from colleagues or clients. "A lot of people think only artists have portfolios," says Laurence Shatkin, author of 2011 Career Plan, "but anyone can develop one."
ACTION PLAN 3: Raise your visibility in-house. Make yourself known as an expert by sharing links to news about your field with your colleagues, posting insights to industry groups on LinkedIn, or volunteering to write for your company intranet or newsletter, says social-media strategist Diane Crompton. "It shows that you're relevant and up-to-date," she adds.
ACTION PLAN 4: Nurture your network. Networking isn't just for job hunting. Tapping your well-oiled web of contacts to fill job openings at your company could impress your boss too, especially if you prove you have a good eye for talent. What's more, helping others means your contacts will be primed to help you down the road.
Make Money in 2011: The Economy
Make Money in 2011: Your Investments
Make Money in 2011: Savings & Credit