Stock rally bites the dust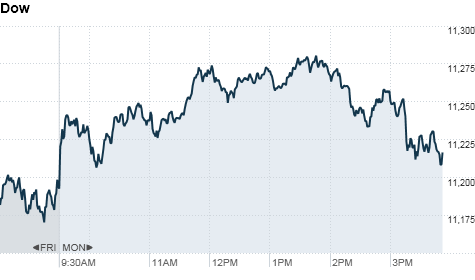 NEW YORK (CNNMoney.com) -- After posting gains nearly all day, U.S. stocks tumbled at the session's close Monday, as investors remain jittery during a week with a full economic calendar.
At the closing bell, the Dow Jones industrial average (INDU) only gained 9 points, or 0.1%, after climbing as much as 88 points earlier in the session. The S&P 500 (SPX) fell 1 point, or 0.1% and the tech heavy Nasdaq (COMP) fell 4 points, or 0.2%.
Early in the session, investors welcomed news from Caterpillar (CAT, Fortune 500) that it planned to acquire mining equipment company Bucyrus International (BUCY). A strong retail sales report also gave stocks a boost at the get-go.
But stocks struggled to hold on to those gains toward the closing bell, as investors gear up for more economic data due out later this week. Tuesday brings reports on industrial production and the latest Producer Price Index, an important reading on the price of goods at the wholesale level.
"This market never really had a lot of conviction going in, even though we had some pretty good economic data to chew on. Investors just didn't have the passion for buying stocks today," said Jack Ablin, chief investment officer for Harris Private Bank in Chicago.
Meanwhile, worries about a sovereign debt crisis in Europe are once again bubbling to the surface, after the Group of 20 meeting of world leaders last week revived jitters about the global economy. And Irish debt continues to be a sore point, even as the country's government insists that it will not need a bailout.
"We've got some problems in the euro zone that are continuing to escalate," said Phil Streible, senior market strategist with Lind-Waldock. "The economic data hasn't been all that great, and I'm not so comfortable remaining upbeat about the stock market at these levels," he added.
Stocks ended on a sour note last week, as concerns about the global economy took center stage. All three major indexes closed with their worst weekly declines in three months.
Economy: A government report released before the market's open revealed good news for retailers heading into the holiday shopping season. Retail sales increased 1.2% in October -- a far better number than the 0.6% gain expected by analysts.
The report comes at the perfect time for retailers hoping for strong holiday sales. "There is a lot of demand out there and people feel better. Those who have money are spending it," said Harry Clark, founder and CEO of Clark Capital Management Group.
But two other economic reports were less upbeat, and could be holding stocks back from climbing more.
Investors cautiously looked to a bigger-than-expected rise in inventories at U.S. businesses in September as a sign that demand is not keeping up with supply. Inventories increased 0.9% from the prior month, higher than the 0.6% increase economists had been expecting.
A separate report on manufacturing in the New York area indicated that activity declined in early November from the month before.
For the first time since mid-2009, the general business conditions index fell below zero -- declining 27 points to -11.1. New orders also registered a sharp decline, the New York Fed said.
Tax policy is also likely to be on investors' minds as Congress reconvenes for a lame-duck session. Lawmakers have yet to decide the fate of key tax breaks that are due to expire at the end of 2010
Companies: After the bell, Nordstrom (JWN, Fortune 500) reported third-quarter earnings of 53 cents per share, slightly better than the 52 cents per share analysts were expecting. Nordstrom shares rose 1% in after-hours trading.
Earlier in the day, Caterpillar (CAT, Fortune 500) announced its plans to buy mining equipment giant Bucyrus International (BUCY) in a deal valued at $7.6 billion. The price per share is valued at a 32% premium to Bucyrus' share price as of Friday. Shares of Caterpillar edged up 1%, while Bucyrus's stock rose 29%.
The deal lifted stocks of other mining equipment manufacturers, driving shares of Joy Global Inc. (JOYG) up 7.5%, while shares of Terex Corp. (TEX, Fortune 500) rose 2.9%
Shares of Ford Motor Co (F, Fortune 500). rose 4.3% as rival automaker General Motors Co. prepares to price its initial public offering on Nov. 17.
BHP Billiton (BHP) withdrew its hostile takeover bid for Canadian mining company PotashCorp (POT) following intervention by Canadian regulators. Shares of BHP rose 0.8% afternoon trading, while PotashCorp shares fell about 1.9%.
Data-storage company EMC Corp. (EMC, Fortune 500) announced it will purchase Isilon Systems Inc. (ISLN) for $2.25 billion, increasing its competitiveness in the cloud computing sphere. Shares of EMC fell 1.2% and Isilon stock rose 28.5%.
Lowe's (LOW, Fortune 500) reported quarterly results early Monday morning. The home improvement retailer said it earned 29 cents per share, falling short of analysts' expectations by one cent per share. Sales rose to $11.6 billion.
The company said its earnings were hamstrung by overall sluggishness in the economy, and that uncertainty in employment and housing continue to pressure the industry. Lowe's shares fell 1.1%.
World markets: European stocks opened the week mixed. Britain's FTSE 100 rose 0.4%, the DAX in Germany gained 0.8% and France's CAC 40 fell 0.1%.
Asian markets also ended the session mixed. The Shanghai Composite gained 1.0% and Japan's Nikkei rose 1.1%, while the Hang Seng in Hong Kong lost 0.8%.
Currencies and commodities: The dollar strengthened against the euro, the Japanese yen and the British pound.
Oil for December delivery fell 2 cents, settling at $84.86 a barrel.
Gold futures for December delivery rose $3 to settle at $1,365.50 an ounce.
Bonds: The price on the benchmark 10-year U.S. Treasury dropped, pushing the yield up to 2.95% from 2.76% late Friday.