Stocks end wild ride with a whimper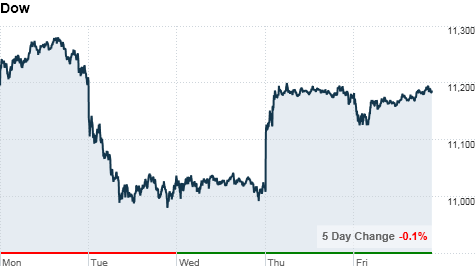 NEW YORK (CNNMoney.com) -- U.S. stocks closed out a wild week with a lackluster finish. In the final stretch, stocks ended Friday's trading session just above the break even point.
The Dow Jones industrial average (INDU) rose 22 points, or 0.2%, to close at 11,203.6. The S&P 500 (SPX) rose 3 points, or 0.3%, to 1,199.7. The tech-heavy Nasdaq (COMP) gained 4 points, or 0.2%, to 2,518.1.
Overall, the three indexes were barely changed from their close a week ago.
With no economic data or major corporate reports on the day's agenda, volume was light as investors took a breather after the prior day's advance.
"The market was trying to shake off a general malaise all day," said Rich Ilczyszyn, market strategist with futures broker Lind-Waldock. "Trading was very quiet, and it just kind of grinded up at the end."
Concerns about Irish bank bailouts, China clamping down on inflation and more backlash against the Fed's bond-buying spree all pummeled stocks in the first half of the week. Then on Thursday investors perked up again after General Motors raised $20.1 billion in an initial public offering, with shares debuting on the NYSE Thursday.
Economy: Speaking Friday in Germany, Federal Reserve Chairman Ben Bernanke defended the central bank's plan to spur economic growth, saying the strategy has worked in the past and could help reduce unemployment in the United States.
He also argued that nations need to work together to correct global imbalances, as the world economy recovers at an uneven pace. In remarks that appeared targeted toward China, Bernanke also urged developing nations to let their currencies gain value.
The Central Bank of China raised its reserve requirement ratio by half a percentage point. It was the fifth time this year that the central bank has raised the reserves that banks are required to keep in their vaults.
On Thursday, officials in Dublin signaled that Ireland is open to accepting aid from the International Monetary Fund and European Central Bank to shore up its troubled banking sector.
World markets: European stocks ended mixed. Britain's FTSE 100 lost 0.6% and France's CAC 40 slid 0.2%, while the DAX in Germany rose 0.2%.
Asian markets ended mixed. The Shanghai Composite gained 0.8% and Japan's Nikkei rose 0.1%, while the Hang Seng in Hong Kong lost 0.1%.
Companies: Dell (DELL, Fortune 500) reported late Thursday that booming sales to businesses sharply lifted the computer maker's profit last quarter. Dell shares rose 1.7% Friday.
Shares of Salesforce.com (CRM) soared 18.1% to a record high Friday after the company delivered sales that far exceeded analysts' expectations and a bullish forecast for the current quarter.
Shares of Del Monte Foods (DLM) surged 11.5% on reports that private equity firm Kohlberg Kravis Roberts & Co. was in advanced talks to purchase the company.
AnnTaylor Stores (ANN) advanced 8.5% after the women's clothing retailer beat Wall Street estimates on both its fiscal third-quarter profit and sales.
Foot Locker (FL, Fortune 500) also announced earnings and revenue that beat estimates, and its shares gained 11.5%.
Shares of Nike (NKE, Fortune 500) rose 4% after the company announced Thursday it will raise its cash dividend 15% to 31 cents per share.
Nokia (NOK) shares fell 1.8% after a company executive admitted Thursday that some of Nokia's N8 smartphones were having problems powering on and off.
Currencies and commodities: The dollar weakened against the euro and the Japanese yen, but rose slightly against the British pound.
Oil for December delivery fell 25 cents to settle at $81.51 a barrel.
Gold futures for December delivery fell $3 to settle at $1,352.70 an ounce.
Bonds: The price on the benchmark 10-year U.S. Treasury rose, driving the yield down to 2.88% from 2.90% late Thursday.