November jobs report: Unemployment rate up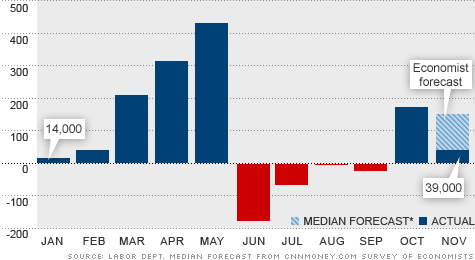 NEW YORK (CNNMoney.com) -- The government's monthly labor report threw a curve ball Friday morning as November's job growth came in far lower than expected and the unemployment rate rose to 9.8%.

U.S. employers added 39,000 jobs to their payrolls in November, the Labor Department reported. That marks a major slowdown from October, when the economy added an upwardly revised 172,000 jobs.
November's numbers also fell short of the 150,000 gain that economists surveyed by CNNMoney.com were expecting.
"The overall pace of job growth is disappointing," said Wells Fargo Chief Economist John Silvia, who had forecast a gain of 130,000 jobs in the month.
While private businesses continued to hire for the eleventh month in a row, they also missed expectations. Companies added just 50,000 jobs to their payrolls in October, falling short of the 175,000 jobs economists had predicted for the sector.
Meanwhile, the government shed 11,000 jobs during the month.
The job market is still reeling from the longest recession since the Great Depression, with 15.1 million Americans still unemployed.
On the upside, revisions for September and October showed there were 38,000 additional job gains in those months than previously reported.
Holding pattern
Overall, employers are still reluctant to commit to full-time hires as they remain uncertain about tax increases, health care costs and new regulations, Silvia said.
While gains were primarily in the services industry, huge losses in retail came as the biggest surprise, Silvia said. The sector lost 28,000 jobs in November -- a figure that could partially be attributed to seasonal adjustments, he said.
Manufacturing also brought disappointing news. Despite other indicators that show the manufacturing sector is recovering, factories cut 13,000 jobs last month.
The construction sector, which some economists had thought already bottomed out with its job cuts, also shed another 5,000 positions.
But employers are at least getting their feet wet with temporary hires. The economy added 40,000 temporary jobs in November, and overall, temp jobs have been increasing since September of last year.
Temporary jobs are often considered a precursor to permanent job growth, although many experts say they should have translated into full-time positions months ago.
Hours worked and wages were essentially flat in November, boding poorly for Americans heading into the holidays, said Diane Swonk, chief economist from Mesirow Financial.
Deep Black Friday and Cyber Monday discounts recently kicked off the holiday shopping season and gave a strong boost to retailers in November.
"[This] makes one wonder how much consumers were dipping into their savings to take advantage of all the holiday promotions that we saw during the month," Swonk said in a research note.
Jobless recovery?
The unemployment rate, which is calculated in a separate survey, unexpectedly ticked up to 9.8% after holding at 9.6% for the prior three months, the government said.
While many economists had predicted the rate would stay the same, an uptick isn't completely surprising either, said Sal Guatieri, senior economist with BMO Capital Markets.
That's because the unemployment rate only includes people who are actively looking for jobs, and in this downturn, many Americans just give up.
When the job market started looking up in October, many of those so-called discouraged workers may have started looking again, and that makes the unemployment rate float higher, Guatieri said.
"Some discouraged job seekers were encouraged to come back into the labor search," he said. "In the end, they were greatly disappointed when they could not find work."
The number of discouraged workers rose to 1.3 million in November, up 63,000 from the previous month.
The jobless rate has remained above 9% for 19 straight months, the longest stretch on record since the Labor Department started tracking unemployment in 1949. That record "hammers home" the fact that Americans are stuck in a jobless recovery, Guatieri said.
"The economy is not growing fast enough to satisfy all the new job seekers," he said. "We're not even keeping up with population growth in generating jobs, let alone putting a dent in the sky-high unemployment rate."
Economists often say the labor market needs about 150,000 additional jobs per month just to keep pace with population growth, and at least 300,000 to make a difference in the unemployment rate.
Lawmakers point fingers
The jobs report barely moved stock markets Friday, but lawmakers were quick to jump up on their soap boxes to point fingers across the aisle. Both sides accuse each other of holding up the job recovery.
"My Republican colleagues have offered few ideas on how to create jobs, but have been vocal and steadfast in their opposition to unemployment benefits for those without jobs," said Rep. Carolyn Maloney, a Democrat from New York and chairwoman of the Joint Economic Committee.
Democrats say the disappointing jobs number supports their push for extending federal unemployment benefits. On Tuesday, the Senate failed to advance a Democrat-sponsored bill to extend federal unemployment benefits.
Meanwhile, Republicans say the jobs report supports their call to extend the Bush tax cuts which -- they argue -- stimulate the economy.
"All the while, [Democrats] have left a massive job-killing tax increase hanging over the heads of every single American family and small business, prolonging the existing economic uncertainty that has kept employers from hiring," Republican National Committee chairman Michael Steele said in prepared remarks.