Stocks poised for higher open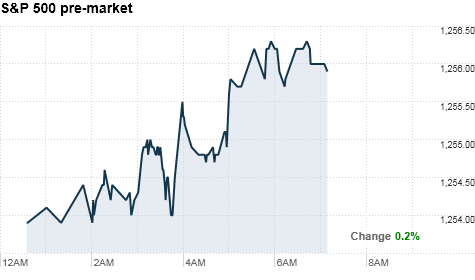 NEW YORK (CNNMoney.com) -- U.S. stocks were poised to inch higher at the opening bell Tuesday, as investors awaited a pair of economic reports on consumer confidence and the housing market.
Dow Jones industrial average (INDU), S&P 500 (SPX) and Nasdaq (COMP) futures were up about 0.2% ahead of the opening bell. Futures measure current index values against perceived future performance.
"Investors will be focusing on the two economic reports coming out," said Peter Cardillo, chief market economist at Avalon Partners. "We know the the real estate market remains soft, but investors are looking for a new burst in consumer confidence."
Consumer spending accounts for about two-thirds of economic activity, so a boost in confidence bodes well for the recovery.
Cardillo expects moves in the market to be exaggerated as volumes remain thin amid the holiday week and as the Northeast continues to dig out from a severe snowstorm.
"Yesterday's volume was the lightest of year, and I wouldn't be surprised if we see a repeat of that today," he said.
On Monday, stocks bounced back from morning losses and ended mixed as investors digested a surprise interest rate hike by the Bank of China, and an East Coast blizzard that put a damper on post-holiday retail sales.
Economy: The Case-Shiller 20-City index of home prices in major metropolitan areas for October is due at 9 a.m. ET. Economists expect a 0.2% decline after the previous month's 0.6% gain.
At 10 a.m. ET, the Conference Board will release a reading on consumer confidence for December. The index is expected to have risen to 56.1 from 54.1 in November.
Companies: Investors will be watching electric car maker Tesla Motors (TSLA) a day after its stock tumbled 15%. Monday was the first day that large investors in the company's June IPO could sell shares, and they took advantage of a 70% run-up from the initial pricing.
Tesla was up 3% in premarket trading.
Shares of Apple (AAPL, Fortune 500), which have climbed more than 50% this year to new all-time highs above $325 per share, were up 1.7% in premarket trading. A new lawsuit seeking class-action status accuses the iPhone and iPad maker of enabling advertisers to track how users interact with applications.
The suit, which also names Pandora, The Weather Channel, Dictionary.com and Backflip as defendants, was filed last week in a district court in California.
World markets: European stocks posted slim gains in early trading. The DAX in Germany added 0.1%, and France's CAC 40 increased 0.4%. London remained closed for a holiday, reopening Wednesday.
Asian markets ended lower. The Shanghai Composite lost 1.7%, the Hang Seng in Hong Kong fell 0.9% and Japan's Nikkei slipped 0.6%.
Currencies and commodities: The dollar lost ground against the euro, the Japanese yen and the British pound.
Oil for February delivery rose 15 cents to $90.15 per barrel.
Gold futures for February delivery rose $11.90 to $1,394.80 an ounce.
Bonds: The price on the benchmark 10-year U.S. Treasury fell, pushing the yield up to 3.34% from 3.33% late Monday.