Stocks off to a rockin' start in 2011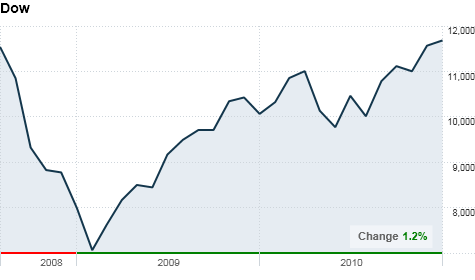 NEW YORK (CNNMoney) -- The Dow closed at a fresh two-year high Monday, getting the new year off to a strong start, after manufacturing and construction data stoked optimism about the economy.
The Dow Jones industrial average (INDU) rose 93 points, or 0.8%, closing at 11,670.8 -- its highest level since August 2008.
Bank of America (BAC, Fortune 500) was the biggest gainer on the blue-chip index, leading financial shares higher. Its shares surged more than 6% after the bank announced a $3 billion mortgage settlement with Fannie Mae and Freddie Mac earlier in the day.
Meanwhile, the S&P 500 (SPX) rose 14 points, or 1.1%; and the Nasdaq (COMP) added 39 points, or 1.5%.
While the economy has a long road to recovery, investors are bullish about the month ahead.
"Over the long term, January has usually been a strong month for stock performance, although the last two Januarys have been terrible," said Jack Ablin, chief investment officer with Harris Private Bank in Chicago. "This is one January where I'm hopeful we're back to our historical pattern again."
Stocks ended a roller coaster year with a lackluster showing Friday, but all three major indexes logged double-digit percentage gains for the year. The Dow Jones industrial average finished 2010 up 11%, the S&P 500 climbed 13% and the Nasdaq rose 17%.
Economy: Traders mulled over an economic report showing the manufacturing industry expanded for the 17th straight month in December.
The Institute for Supply Management's manufacturing index for December edged up to 57 in December, up from 56.6 in November. The index was roughly in line with economists' expectations for 57.3, with any number above 50 indicating growth in the sector.
Construction spending data also came in after the opening bell -- showing a 0.4% rise in November, following a 0.7% rise in October. Economists were looking for an increase of 0.2%.
Meanwhile, the most closely watched report of the week is the government's reading on the labor market, due Friday. Economists expect employers boosted payrolls by 132,000 last month, following a 39,000 gain in November.

Companies: Bank of America announced Monday that it is taking a charge for faulty mortgages sold to Freddie Mac and Fannie Mae. Bank of America expects to take a provision of about $3 billion related to the loans and an impairment charge of $2 billion to fourth-quarter results. The bank has made cash payments of about $1.3 billion to both Freddie Mac and Fannie Mae.
Shares of Barnes & Noble (BKS, Fortune 500) jumped 9%, after the bookseller said its same-store holiday sales rose 9.7% -- helped by demand for its Nook e-reader.
Late Sunday, the New York Times reported Goldman Sachs (GS, Fortune 500) and an anonymous Russian investor have invested $500 million in Facebook. The deal values the social networking giant at $50 billion -- a valuation higher than CNNMoney parent Time Warner (TWX, Fortune 500), as well as other major media companies. Shares of Goldman Sachs jumped 2.9%.
Dollar General Corp. (DG, Fortune 500) shares fell 0.1%, after the retailer announced plans to create 6,000 new jobs in fiscal 2011, as the company opens 625 new stores throughout the country.
Apple Inc (AAPL, Fortune 500) also started the year off on the right foot, with its market value surpassing $300 billion for the first time ever. Shares of Apple rose 2.2%.
World markets: European stocks closed their trading sessions higher. France's CAC 40 rose 2.3% and Germany's DAX gained 1.1%. Britain's market was closed.

Most Asian markets were closed Monday. Tokyo and Shanghai were dark, while the Hang Seng in Hong Kong finished 1.7% higher.
Currencies and commodities: The dollar gained against the euro, the Japanese yen and the British pound.

Oil for February delivery rose 17 cents to settle at $91.55 a barrel.
Gold futures for February delivery gained $1.50 to settle at a record-high close of $1,422.90 an ounce.
Bonds: The price on the benchmark 10-year U.S. Treasury fell Monday, pushing the yield up to 3.34% from 3.3% Friday.