2010: The year of uncertainty and volatility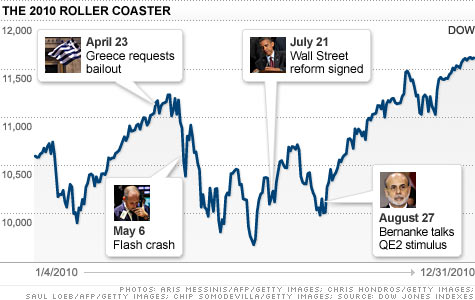 NEW YORK (CNNMoney) -- 2010 was a year marked by uncertainty and volatility, to say the least.
Stocks got off to a good start in January but worries about European debt quickly deflated that early optimism. As the market got accustomed to these daily anxieties, and Greece managed to crawl out of its default hole, stocks started to crawl higher.
But a dour jobs report on July 2 sent stocks plunging to their lows for the year.
All was not lost. On Aug. 27, Fed Chairman Ben Bernanke's mere hint of another stimulus put stocks on an upward trajectory for the rest of the year. But let's not forget May 6, when the "Flash Crash" sent the Dow spiraling down almost 1,000 points in a matter of minutes.
Put bluntly, 2010 was a roller coaster ride, said David Kotok, chief investment officer at Cumberland Advisors -- and the ride may not be over in 2011.
Europe's debt problems remained an underlying theme throughout the year. And in the second half, commodities took center stage, with gold surging to record highs and oil topping $90 a barrel for the first time in two years.
"Extreme volatility and high uncertainty go together, and both are here to stay for a while longer," Kotok said.
Here are the highlights from 2010
Jan. 4: Stocks start the year on a positive note, closing at 15-month highs. The Dow Jones industrial average (INDU) starts at 10,584; the S&P 500 (SPX) at 1,133; and the tech-heavy Nasdaq (COMP) at 2,308.
February: Worries about Europe reach a fever pitch. Investors fear Greece might default on its national debt and trigger a domino-effect of defaults in Portugal, Ireland, Italy and Spain. Concerns about Europe's debt crisis underpin the market all year.
April 16: The Securities and Exchange Commission files charges against Goldman Sachs for allegedly defrauding investors in a sale of securities tied to subprime mortgages. Goldman (GS, Fortune 500) shares plummet 13%.
April 20: A deadly explosion on an offshore oil rig operated by BP sends oil gushing into the Gulf of Mexico. It takes five months to seal the leaking well. BP (BP) shares have struggled to make up their losses ever since, and ended the year down 27% from April 20.
April 23: Greece requests a $53-billion bailout. (Dow, S&P end at 19-month highs)
May 6: In one of the most gut-wrenching hours in Wall Street history, a glitch in automated trading, dubbed the "Flash Crash", sends the Dow plunging almost 1,000 points before it recovers to close with a 348-point loss.
June 7: The euro closes at a four-year low of $1.192 as fears about the European debt crisis resurface. (Dow closes at a 7 month low)
July 2: Stocks plunged to 2010 lows in the aftermath of a weaker-than-expected June jobs report.
July 21: President Obama signs the Wall Street reform bill into law, enacting the most far-reaching financial overhaul since the Great Depression. Stocks slump after Fed chairman Ben Bernanke tells Congress that the outlook for the economy is "unusually uncertain."
Aug. 27: In a speech in Jackson Hole, Wyo., Bernanke first hints that the Fed may initiate a second round of monetary stimulus, known as quantitative easing or QE2. (Dow surges 165 points)
Nov. 2: In the mid-term elections, Republicans win back the House. The shift in the balance in power is generally seen as a win for Wall Street.
Nov. 3: Fed unveils quantitative easing -- a $600 billion bond-buying stimulus program. (Dow, Nasdaq at 2-year highs)
Dec. 17: President Obama signs the $858 billion tax cut deal into law.
Dec. 31: Stocks end the year on a high note. The Dow ends at 11,578, up 11% from the beginning of the year. The S&P 500 finishes at 1,258, up 13% for the year, and the Nasdaq rises 17% to end at 2,653.