Stocks end lower, Intel posts strong quarter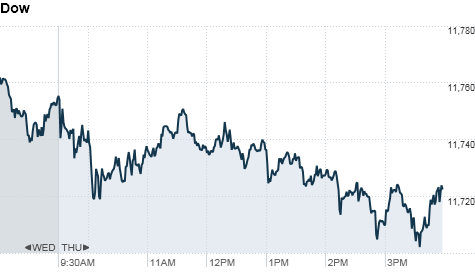 NEW YORK (CNNMoney) -- Investors took a step back Thursday, with stocks ending lower ahead of Intel's blockbuster earnings.
The Dow Jones industrial average (INDU), lost 23.54 points, or 0.2% to close at 11,731.90. The S&P 500 (SPX) slipped 2 points, or 0.2%, ending the day at 1,283.76, and the Nasdaq (COMP) fell 2 points, or 0.1%, closing at 2,735.29.
After the bell, Intel (INTC, Fortune 500) reported the best fourth-quarter earnings in company history. The company posted earnings per share of 59 cents.
Analysts polled by Thomson Reuters had forecast earnings of 53 cents per share. Revenue for the Santa Clara, Calif., company rose 8% over the previous year to $11.5 billion, topping analysts' forecasts of $11.37 billion.
The bulk of the Dow's decline for the day came from Merck, whose shares dropped 6% after the drugmaker said it stopped giving an experimental blood clotting drug to certain patients in a clinical trial. Alcoa (AA, Fortune 500), and Bank of America (BAC, Fortune 500) were the other big decliners on the Dow.
Gainers included Home Depot (HD, Fortune 500), Caterpillar (CAT, Fortune 500) and Verizon (VZ, Fortune 500), which just announced plans to sell Apple's iPhone early next month.
On Wednesday, financial shares sparked a broad rally, sending stocks to multi-year highs and marking the second straight winning day for the Dow.
But bank stocks took a breather Thursday as investors geared up for JPMorgan Chase (JPM, Fortune 500), which is slated to report earnings before Friday's opening bell.
"Everyone's waiting on the financials to report," said Dave Rovelli, managing director of U.S. equity trading at Canaccord Adams.
The session got off to a weak start following disappointing reports on jobless claims and inflation. "It was horrible," said Rovelli. "The only reason that people are still buying stocks is they're anticipating a strong earning season."
Eurozone jitters have led to choppy trading this week and that's likely to continue in the near term.
Credit rating agencies Standard & Poor's and Moody's issued a warning on U.S. credit early Thursday, citing mounting debt, according to The Wall Street Journal.
Economy: After a light start to the week, investors faced a full day of economic reports Thursday.
The Department of Labor released its weekly jobless claims report before the opening bell. The government said that the number of Americans filing new claims for unemployment climbed to 445,000 last week.
This was much higher than forecast of 415,000 claims.
The government also said that continuing claims -- a measure of Americans who have been receiving benefits for a week or more -- fell to 3.8 million. That was lower than the forecast of 4.08 million.
The Producer Price Index, a measure of wholesale inflation, rose 1.1% in December, according to the Commerce Department. That was higher than the expected increase of 0.8%.
The Commerce Department said the trade balance was practically unchanged at $38.3 billion. This was better than expected. The trade balance was expected to have widened to $41 billion in November.
In the afternoon, Federal Reserve Chairman Ben Bernanke will speak at the Federal Deposit Insurance Corporation's forum on small business lending.
World markets: European stocks were mixed in morning trading, despite a Spanish auction of government bonds that was met with solid demand. The auction generated the $3.9 billion (3 billion euros) as hoped.
"The bond auctions in Spain went pretty well, but there still seems to be concern about other countries," said Chip Brian, chief executive of MySmartrend.com, which analyzes over 6,000 stocks in real time.
Britain's FTSE 100 ended the day down 0.44% and the DAX in Germany edged 0.09% higher. France's CAC 40 rose 0.75%.
Asian markets ended the session higher. The Shanghai Composite ticked up 0.2%, the Hang Seng in Hong Kong rose 0.5% and Japan's Nikkei gained 0.7%.
Companies: Share of Marathon Oil (MRO, Fortune 500) ended the day up 6% on reports that it will split into two separate companies.
That comes one day after manufacturing firm ITT (ITT, Fortune 500) said it would split itself up into three separate entities. Shares of ITT closed down more than 3%.
Shares of Williams Sonoma (WSM) ended down more than 3% after the company boosted its fourth-quarter earnings and sales guidance following strong holiday sales. Analysts said the company's earnings growth rate has slowed, and investors have grown accustomed to the upbeat outlooks.
Shares of financial services company Green Dot Corp (GDOT) rose 3% after the announcement that thousands of Americans will get tax refunds on a prepaid card instead of a paper check. The Visa card will be issued by Green Dot and managed by Utah-based Bonneville Bank during the pilot.
Currencies and commodities: The dollar slipped against the euro, the Japanese yen and the British pound.
Oil for February delivery settled down 46 cents to $91.40 a barrel.
Gold for February delivery dropped $1.20 to $1,387 an ounce.
In other commodities, corn continued its recent tear, surging 1% to $6.37 per bushel.
Bonds: The yield on the benchmark 10-year note slipped to 3.31% from 3.37% late Wednesday