Stocks gain despite weakness in banking sector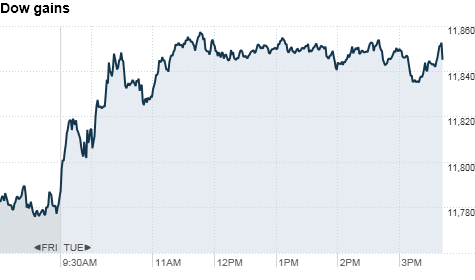 NEW YORK (CNNMoney) -- U.S. stocks showed surprising resilience Tuesday, closing higher as shares of Boeing and other industrial names rose, offsetting weakness from Citigroup and Apple.
The Dow Jones industrial average (INDU) added 50 points, or 0.4%. The broad S&P 500 (SPX) index edged up nearly 2 points, or 0.1%. The Nasdaq (COMP), a proxy for the technology sector, added 10 points, or 0.4%.
The gains came despite disappointing earnings from Citigroup, which dragged the banking sector lower. Citi tumbled over 6%, while Bank of America (BAC, Fortune 500) and Wells Fargo (WFC, Fortune 500) also took a hit.
After the market closed, Apple reported a record jump in quarterly earnings and sales, driven by strong demand for Macs, iPhones and iPads during the holiday season.
Apple shares, which were halted briefly before the announcement, rallied over 4% in after hours trading. Shares fell over 2% in during market hours Tuesday amid worries about CEO Steve Jobs' medical leave.
IBM gained 2.4% in extended trading after the company reported fourth-quarter earnings that beat analysts' estimates.
Boeing led gainers during active trading, adding 3.4% after the defense and aeronautics company said it expects to deliver its 787 Dreamliner in the third quarter of 2011. The 787, which has been plagued by delays, was previously slated for delivery in the first quarter.
"It may be that the stock was oversold enough for it to rally back, despite the disappointing news," said Bruce McCain, chief investment strategist at Key Private Bank.
In addition to Boeing, industrial stocks Alcoa (AA, Fortune 500) and Caterpillar (CAT, Fortune 500) were both up about 2%, reflecting the bullish outlook many investors have for economic growth in 2011.
"Investor sentiment is extremely positive right now," said McCain. "And that's a risky time for the market."
He said any improvement in corporate earnings or economic data will likely have a "muted effect" on stocks, while negative surprises "can torpedo the market."
Looking ahead, quarterly reports are due early Wednesday from Goldman Sachs and Wells Fargo. Investors will also take in the latest readings on housing starts and building permits before the market opens.
Markets were closed Monday due to Martin Luther King Jr. Day. On Friday, stocks ended moderately higher, with the Dow and the S&P posting their seventh straight week of gains. That's the longest weekly win streak for the Dow since the two months of consecutive gains that ended last April.
Companies: Apple reported results late Tuesday for its best-ever quarter, with revenue of $26.7 billion driven by holiday iPad and iPhone sales that were much better than forecast. Apple's profit of $6 billion also set a new record.
Apple sold 7.3 million iPads in the quarter, easily surpassing the expectations of nearly every Wall Street analyst. It also sold 16.2 million iPhones, 4.1 million Macintosh computers and 19.5 million iPods during the quarter.
Shares of Apple had been under pressure for most of the session Tuesday, after the company announced Monday that CEO and co-founder Jobs will take another leave of absence because of health problems.
Jobs' leave of absence comes two years after the Apple CEO took a six-month sabbatical, during which he received a liver transplant. While the news may weigh on Apple shares in the coming days, the slump isn't likely to last long, said Tom Winmill, portfolio manager at Midas Funds.
"This is a very short-term phenomenon," Winmill said. "Jobs is the face of Apple, so there's no question that a lot of people think Apple is a one-man band, but Apple's really anything but -- and the prior time he went on leave, it proved to be a great buying opportunity."
Also after the bell, IBM (IBM, Fortune 500) reported net income of $5.3 billion, or $4.18 per share, for the fourth quarter. That's up from $4.8 billion, or $3.59 per share, a year ago. Analysts had predicted earnings of $4.08 per share.
Citigroup (C, Fortune 500) posted quarterly results before the opening bell that missed expectations. The bank reported a profit of $1.3 billion, or 4 cents per share, on revenue of $18.4 billion.
While Citi's quarterly earnings disappointed, many other companies are on deck to report results this week -- and Winmill said he is bullish about the quarter.
"I think overall we'll see earnings come in this quarter as they did in the prior quarter, with companies continuing to surprise on the upside," he said.
Rival JPMorgan Chase (JPM, Fortune 500) laid the foundation for overall strength on Friday when it reported a 47% jump in fourth-quarter earnings to $4.8 billion, or $1.12 per share. Goldman Sachs (GS, Fortune 500) is due to report Wednesday morning.
Delta (DAL, Fortune 500) reported quarterly earnings that missed forecasts, posting earnings of 19 cents per share -- compared to the 24 cents expected by analysts. Shares of the airline company dropped 5.6%.
Outside the earnings arena, shares of commercial banking firm Comerica (CMA) tumbled nearly 8% Tuesday, after the company agreed to acquire Sterling Bancshares (SBIB) in a $1 billion all-stock deal.
The Federal Communications Commission approved the merger of Comcast, of the country's largest cable operator, and broadcasting company NBC Universal.
Economy: The New York Fed released its Empire Manufacturing Survey before the market open. The reading ticked up to 11.92 in January, which was in line with expectations.
Separately, the National Association of Homebuilder's Housing Market Index for January came in unchanged at 16, as expected.
World markets: European stocks closed higher. Britain's FTSE 100 rose 1.2%, the DAX in Germany and France's CAC 40 both gained 0.9%.
Asian markets ended mostly higher. The Shanghai Composite edged up 0.1%, the Hang Seng in Hong Kong was barely above breakeven and Japan's Nikkei rose 0.2%.
Currencies and commodities: The dollar lost ground against the euro, the Japanese yen and the British pound.
A stronger-than-expected report on GDP from Germany gave the euro a boost in early trading and helped lift European markets, Winmill said.
Oil for February delivery fell 22 cents to $91.32 a barrel.
Gold futures for February delivery added $7.70 to settle at $1,368.20 an ounce.
Bonds: Foreign investors bought $93.9 billion in long-term Treasuries in November, increasing their net holdings after purchasing $56 billion the month before, according to the Treasury's latest reading.
The largest lender to the U.S. remains China, which slightly decreased its holdings to $895.6 billion.
Meanwhile, the price on the benchmark 10-year U.S. Treasury fell, pushing the yield up to 3.39% from 3.33% late Friday.