Dow and S&P close higher for 7th week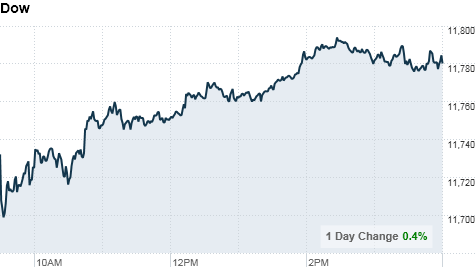 NEW YORK (CNNMoney) -- U.S. stocks ended moderately higher Friday, as investors shrugged off lackluster economic data and shifted focus to next week's avalanche of corporate reports.
The Dow Jones industrial average (INDU) added 0.5%, while the S&P 500 (SPX) and Nasdaq (COMP) each gained more than 0.7%.
The Dow and the S&P posted their seventh straight week of gains. That's the longest streak for the Dow since the two months of consecutive gains that ended in April 2010.
"The market's moves are extraordinary, considering this morning's economic reports were not great," said Keith Springer, head of Springer Financial Advisors.
Bank of America (BAC, Fortune 500) and American Express (AXP, Fortune 500) -- each of which release earnings next week -- led the Dow in percentage increases after a strong earnings report from JPMorgan Chase (JPM, Fortune 500). Intel was one of the biggest losers despite strong earnings.
Banks including Citigroup (C, Fortune 500) and Wells Fargo (WFC, Fortune 500) are on tap to release earnings next week. Several technology companies -- including Apple (AAPL, Fortune 500), Google (GOOG, Fortune 500) and IBM (IBM, Fortune 500) -- will also report.
"JPMorgan is a precursor to stellar earnings next week, and that's what's really driving markets now," Springer added.
Stocks are overbought right now and the market is due for a correction, Springer said. But rather than moving sharply lower, the market is "resting" by merely moving sideways.
Those daily pullbacks are actually good signs that the market is keeping itself in check. Stocks ended lower Thursday in a quiet session.
Companies: Before the opening bell, JPMorgan Chase reported a 47% jump in fourth-quarter earnings to $4.8 billion, or $1.12 per share, beating the 99 cents forecast by analysts.
But the investment bank also bolstered its reserves for mortgage-related legal expenses for the second straight quarter. The stock closed 1% higher.
"JPMorgan investors are really looking for a dividend -- that's what's going to move the stock," Springer said.
Coinstar (CSTR), which owns the $1 DVD rental kiosk company Redbox, reported profits and sales that missed expectations after the closing bell Thursday. The company also lowered its guidance, and shares tumbled 27% Friday.
After the close Thursday, Intel (INTC, Fortune 500) reported the best fourth-quarter earnings in company history -- both the chipmaker's revenue and profit set new records. But Intel's shares ended 1% lower.
World markets: European stocks ended mixed. Britain's FTSE 100 slipped 0.4%, the DAX in Germany was flat, and France's CAC 40 edged up 0.2%.
China's central bank said Friday it will raise the reserve requirement ratio for the nation's banks by half a percentage point. The move came after the government hiked reserve requirements six times last year, as the nation attempts to combat inflation.
Asian markets ended mixed. The Shanghai Composite tumbled 1.3%, and Japan's Nikkei fell 0.9%, while the Hang Seng in Hong Kong ticked up 0.2%.
Economy: Before the opening bell, the government reported that both inflation and retail sales rose last month.
The Commerce Department's Consumer Price Index, a key measure of consumer inflation, rose 0.5% in December after inching up 0.1% in the previous month.
Core CPI edged up 0.1% after rising the same amount in November. The increase was in line with estimates.
Separately, the Commerce Department said retail sales increased 0.6% in December, following a rise of 0.8% in November. Sales were expected to have gained 0.7%. Sales excluding autos rose 0.4%, after jumping 1.2% in the previous month. That missed the 0.6% gain economists had forecast.
The Federal Reserve said industrial production rose 0.8% in December. Capacity utilization rose to 76% in December from 75.4% the previous month.
Currencies and commodities: The dollar fell against the British pound but rose versus the euro and the Japanese yen.
Oil for February delivery rose 14 cents to settle at $91.54 a barrel.
Gold futures for February delivery slumped $26.50 to settle at $1,360.50 an ounce, near six-week lows.
Bonds: The price on the benchmark 10-year U.S. Treasury fell, pushing the yield up to 3.33% from 3.30% late Thursday.