Stocks stumble after Goldman Sachs earnings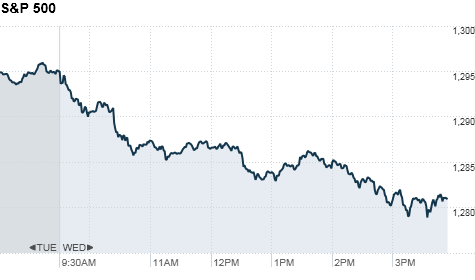 NEW YORK (CNNMoney) -- U.S. stocks took a hit Wednesday, as weak results from Goldman Sachs pressured financial shares and weighed on the overall market.
"So far, earnings have gotten off to a mixed start," said Michael Sheldon, chief market strategist at RDM Financial Group. "We've seen very positive results from tech giants like Apple (AAPL, Fortune 500) and IBM, but financial companies are still dealing with new financial regulation, weakness in the housing market and slow loan growth."
Shares of Goldman Sachs and Bank of America declined more than 4% Wednesday, while shares of Morgan Stanley and Barclays fell more than 3%.
The Dow Jones industrial average (INDU) shed 13 points, or 0.1%, with Bank of America (BAC, Fortune 500) and American Express (AXP, Fortune 500) posting the biggest drops. But losses were capped by a 3% jump in IBM's (IBM, Fortune 500) stock. Earlier in the session, the blue-chip index rose 23 points to its highest level since August 2008.
The S&P 500 (SPX) lost 13 points, or 1%, and the Nasdaq (COMP) dropped 40 points, or 1.5%. It was the biggest one-day loss for the tech-heavy index in almost two months.
Sheldon said that going forward he would not be surprised to see a modest pullback. "Historically, stocks run up into earnings season but experience some profit taking once companies start reporting," he said. Next week, more than 100 S&P 500 companies open their financial books.
But Sheldon added that any weakness in stocks will be short-term.
"As long as the direction of the economy remains on track, the outlook for markets remains positive, at least for the first half of the year," he said.
Investors will also be paying close attention to Chinese President Hu Jintao's visit to the United States as the White House plays host Wednesday to both Hu and a group of American and Chinese business leaders.
"I don't believe the visit will produce any real changes that the U.S. is looking for in terms of a re-evaluation of the yuan, so people will be looking carefully at what agreements can be made in terms of American companies exploring bigger opportunities in China," said Peter Cardillo, chief market economist at Avalon Partners.
On Tuesday, stocks closed higher as shares of Boeing (BA, Fortune 500) and other industrial names rose -- offsetting weakness from Citigroup (C, Fortune 500) and Apple (AAPL, Fortune 500).
Companies: Goldman Sachs (GS, Fortune 500)'s stock tumbled almost 5% after the bank posted better-than-expected fourth-quarter earnings, but missed on revenue estimates.
Meanwhile, shares of Wells Fargo (WFC, Fortune 500) fell 2.1% following results that were in line with forecasts.
Apple reported its best quarter ever late Tuesday, driven by holiday iPad and iPhone sales that were much better than forecast. Shares of Apple (AAPL, Fortune 500) slipped 0.5% Wednesday, after closing down 2% Tuesday amid concerns about Steve Jobs' medical leave of absence.
Shares IBM (IBM, Fortune 500) rose more than 3% Wednesday after the tech giant reported fourth-quarter earnings that topped forecasts Tuesday night.
Starbucks (SBUX, Fortune 500) announced early Wednesday that it will begin accepting mobile payment in all of its U.S. stores, allowing customers to use select smartphones to make purchases. Shares of the company ended slightly higher.
Shares of American Express (AXP, Fortune 500) slid 2.4% after the credit card company said it will shut down a facility in Greensboro, N.C., resulting in 550 job cuts.
Economy: Government figures for December showed a steep decline in housing starts but a surprisingly dramatic increase in building permits.
The U.S. Census Bureau reported that new home construction slumped 4.3% last month, while building permits jumped 16.7%.
World markets: European stocks closed lower. Britain's FTSE 100 dropped 1.3%, while the DAX in Germany and France's CAC 40 fell 0.9%.
Asian markets ended the session higher. The Shanghai Composite rallied 1.8%, the Hang Seng in Hong Kong gained 1.1% and Japan's Nikkei rose 0.4%.
Currencies and commodities: The dollar fell against the euro, the Japanese yen and the British pound.
Oil for March delivery fell 50 cents to settle at $91.81 a barrel.
Gold futures for February delivery rose $2.00 to settle at $1,370.20 an ounce.
Bonds: The price on the benchmark 10-year U.S. Treasury rose slightly, pushing the yield down to 3.34% from 3.36% late Tuesday.