A $7,500 electric car discount scares dealers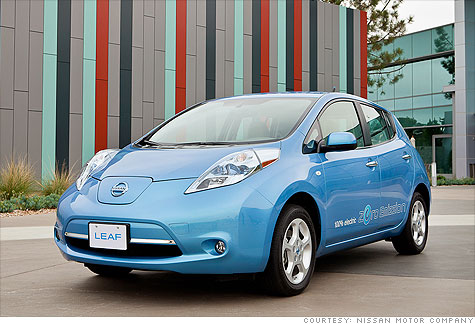 NEW YORK (CNNMoney) -- In an effort to put 1 million electric cars on the road by 2015, the Obama administration has proposed a plan that would put up to $7,500 directly in the hands of car buyers without having them jump through any tax hoops.
Plug-in car advocates love the idea but dealers aren't so sure about it.
Under the proposal, auto dealers and finance companies would take the tax credit for themselves and give customer's a simple on-the-spot discount.
A tax credit for plug-in vehicles already exists but, as it stands now, car buyers have to wait until tax time to get any money back. Consumers buying qualifying plug-in vehicles are eligible for a tax credit of between $2,500 and $7,500 depending on the size of the vehicle's battery pack.
The administration hopes in-dealership discounts will encourage more car buyers to choose electric vehicles. Details are still being worked out, but car dealers, who remember all the problems associated with the "Cash for Clunkers" program, are worried that this system could cause them more headaches.
One thing dealers are concerned about, according to the National Automobile Dealers Association, is that if they give a discount up-front, it could be difficult for them to recoup their money from the government later on, should a problem arise.
But the plug-in tax credit is much simpler than either Cash for Clunkers or the non-plug-in hybrid tax credit said Genevieve Cullen, vice president of the Electric Drive Transportation Association.
The plug-in tax credit allows for the full amount to be taken by anyone, rich, poor or in-between, she said, as long as the vehicle being purchased is on a list of qualifying cars.
If dealers are worried about the sort of frenzy that accompanied the "Cash for Clunkers" program, they can relax about that, said Mike Omotoso, an industry analyst with J.D. Power and Associates.
J.D. Power estimates that only about 20,000 EVs will be sold this year. If the rebate boosts that by 10%, which Omotoso calls a reasonable guess, it still adds up to a relative handful of vehicles.
"When the specifics are made public, NADA will examine the proposal to determine if it makes sense for consumers and dealers," the group said in a prepared statement.
Dealers should welcome anything that could bring customer into showrooms, Omotoso said. Even if a customer ultimately decides against buying a Nissan Leaf or a Chevrolet Volt, they might decide to buy something else.
GM spokesman Greg Martin agreed.
"Hey, we're happy to sell them a Chevy Cruze," he said.