Stocks post broad gains, led by consumer names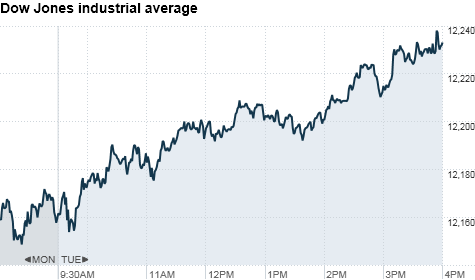 NEW YORK (CNNMoney) -- U.S. stocks posted another day of solid gains Tuesday, with the Dow Jones industrial average climbing for the seventh straight day, as traders cheered news in the consumer sector and looked past China's latest interest rate hike.
The Dow Jones industrial average (INDU) gained 72 points, or 0.6%; to 12,233, the S&P 500 (SPX) rose 5.2 points, or 0.4%, to 1,324.6 and the Nasdaq (COMP) composite advanced 13 points, or 0.5%, to 2,797.
The blue chips were led higher by shares of McDonald's (MCD, Fortune 500), which climbed 2.6% after the fast food giant reported better-than-expected January same-store sales. Other consumer discretionary names in the S&P 500 posted solid gains including Urban Outfitters (URBN), Family Dollar (FDO, Fortune 500) and JCPenney (JCP, Fortune 500) among others.
The Dow's 70-point gain came despite the People's Bank of China announcement early Tuesday that it would raise bank's borrowing and lending rates by a quarter percentage point. The move, the bank's third since October, comes as Chinese policymakers look to gradually cool the world's second-largest economy without halting growth.
"The China rate hike wasn't a surprise, but it shows that they're being proactive about curbing inflation," said Frank Davis, director of sales and trading at LEK Securities.
Outside of the China news, traders had little to act upon. Without any major negative news, traders said stocks will probably continue to float slowly higher. The Dow has been up six of the last seven sessions and 10 of the last 12 sessions.
"There's been this general optimism pushing the market right now that has been difficult to overcome," said Marc Pado, chief market strategist for Cantor Fitzgerald. "Retail investors are coming back, money is returning from overseas and it's frustrating investors who've wanted to short this market."
Investors started the week in high spirits Monday, as several major mergers pushed the Dow Jones industrial average (INDU) up for a sixth day in a row. The 30-stock index closed up 69 points, or 0.6%.
The deals of the day included AOL's (AOL) acquisition of news blog The Huffington Post for $315 million, and a merger between oil drillers Ensco (ESV) and Pride International (PDE).
Companies: Toyota shares advanced 4% after a 10-month U.S. government probe found no electronic flaws in the automaker's safety systems, which were blamed for unintended acceleration in Toyota cars and trucks.
Toyota also issued an upbeat financial forecast with three months left in its fiscal year.
Avon Products (AVP, Fortune 500) shares fell 3% after the company reported a 15% decline in quarterly earnings, missing estimates.
Kindred Healthcare (KND, Fortune 500) shares jumped more than 28% after it received a $900 million buyout offer from competitor RehabCare Group (RHB).
Walt Disney (DIS, Fortune 500) shares rose 4% in after-market trading after the media giant reported adjusted earnings of 68 cents a share, well above analysts' estimates.
World markets: European stocks closed higher. Britain's FTSE 100 rose 0.7, France's CAC 40 added 0.4% and the DAX in Germany ticked up 0.5%.
Asian markets ended mixed. Japan's Nikkei rose 0.4%, while the Heng Seng in Hong Kong fell 0.3%. Shanghai was closed one more day for the lunar new year holiday.
Currencies and commodities: The dollar fell against the euro, but gained versus the British pound and Japanese yen.
Oil for March delivery closed down 54 cents to $89.94 a barrel.
Gold futures for April delivery rose $15.90 to $1,364.10 a troy ounce.
Bonds: The price on the benchmark 10-year U.S. Treasury fell, pushing the yield up to 3.66% from 3.65% from Monday.
The U.S. government auctioned $32 billion in 3-year notes, which received mixed demand from investors. The notes auctioned at a yield of 1.349%, slightly higher than expected.