Stocks face hit from Cisco, other results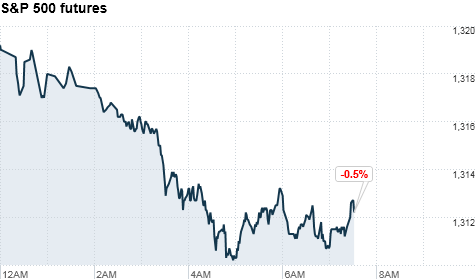 NEW YORK (CNNMoney) -- U.S. stocks were headed for early losses Thursday, as investors responded to disappointing quarterly reports from Cisco Systems, PepsiCo and Credit Suisse.
Dow Jones industrial average (INDU), S&P 500 (SPX) and Nasdaq (COMP) futures were lower, with the Nasdaq futures especially hard hit by the Cisco news. Futures measure current index values against perceived future performance.
On Wednesday, the Dow inched higher for an eighth straight session of gains. But the S&P 500 and Nasdaq finished lower, as investors took a breather from their recent streak.
Philip Isherwood, equities strategist at Evolution Securities in London, said renewed worries about the debt problems facing some troubled European economies and disappointing corporate results are weighing on the market.
"There's a bit of pressure coming back into the market from peripheral yields, and results from the U.S. after hours and across Europe haven't been that supportive," he said.
The yield on Portuguese government bonds rose to a record high Wednesday, according to Isherwood, and borrowing costs remain high for Ireland, Greece and other countries on the periphery of Europe.
Companies: Shares of Cisco Systems (CSCO, Fortune 500) slipped 8% in premarket trading after the network equipment maker posted a quarterly profit late Wednesday that fell from year-earlier results, although they beat Wall Street's forecasts.
Credit Suisse (CS) was under pressure after the financial services company reported quarterly results that disappointed investors. The bank's asset management division also adjusted its target for return on equity this year, citing the "new regulatory environment." U.S.-listed shares were down 5% ahead of the opening bell.
PepsiCo (PEP, Fortune 500) said fourth-quarter earnings fell 6% to 85 cents per share and issued a disappointing outlook.
Whole Foods was up almost 10% in premarket trading after the grocery chain reported first-quarter results that beat expectations and raised its sales and earnings outlook for the year.
Analysts surveyed by Thomson Reuters expect Philip Morris (PM, Fortune 500) to report earnings per share of 96 cents on revenue of $7.27 billion.
After the closing bell, analysts expect Kraft Foods (KFT, Fortune 500) to report earnings per share of 46 cents on $13.47 billion in revenue.
Economy: A weekly government report showed that the number of Americans filing first-time claims for unemployment benefits fell to 383,000 last week -- the lowest number in two-and-a-half years.
The report was better-than-expected. Economists surveyed by Briefing.com had forecast 410,000 initial claims.
The federal Treasury budget for January is expected later in the day.
Investors will also keep an eye out for a proposal due Friday from the Obama administration recommending a phase-out plan for Fannie Mae and Freddie Mac, two government-sponsored mortgage backers.
World markets: European stocks were lower in morning trading. Britain's FTSE 100 slipped 0.8%, the DAX in Germany edged down 0.4% and France's CAC 40 dropped 0.7%.
Asian markets ended mixed. The Shanghai Composite rose 1.6%, while the Hang Seng in Hong Kong plunged nearly 2% and Japan's Nikkei eased 0.1%.
Currencies and commodities: The dollar rose against the euro, the Japanese yen and the British pound.
Oil for March delivery slipped 40 cents to $86.30 a barrel.
Gold futures for April delivery fell $8.10 to $1,357.30 an ounce.
Bonds: The price on the benchmark 10-year U.S. Treasury was steady, leaving the yield unchanged from Wednesday at 3.64%.