Stocks end higher as Mubarak steps down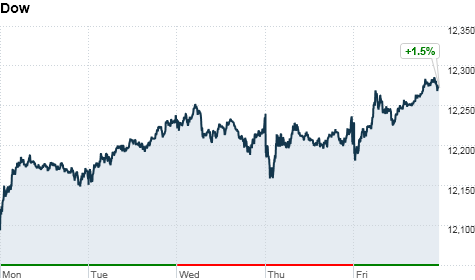 NEW YORK (CNNMoney) -- Stocks finished a strong week at multi-year highs on Friday, as investors cheered the resignation of Egyptian President Hosni Mubarak.
Dow Jones industrial average (INDU) jumped 44 points, or 0.4%; S&P 500 (SPX) gained 7 points, or 0.6%; and Nasdaq (COMP) rose 19 points, or 0.7%.
For the week, the three major indexes closed more than 1% higher. The Dow and the S&P also ended Friday's session at their highest levels since mid-June, 2008.
After weeks of anti-government protests, Mubarak relinquished his power Friday, clearing up uncertainty about escalating tensions in the country.
"Mubarak stepping down was the right thing to do, and from the perspective of the U.S. economy and markets it eliminates that geopolitical risk and uncertainty," said Phil Orlando, chief equity market strategist at Federated Investors.
The move comes after Mubarak said late Thursday he would transfer some powers to the vice president, but would remain president during the transition to a new government. That prompted an uproar from Egyptians, with tens of thousands of protesters streaming into Cairo's Tahrir Square on Friday.
While the resignation has sparked an initial burst of euphoria, worries about a peaceful transition are likely to weigh on the market in coming weeks, Orlando said.
On Thursday, stocks recovered early losses and ended the session little changed, as investors tried to grasp developments in Egypt.
Despite the ongoing tensions overseas, the three major U.S. indexes managed to book increases of more than 2% the past two weeks.
"Right now the momentum is so fueled to the upside, that all investors care about is the next uptick," said Joseph Saluzzi, co-head of equity trading at Themis Trading.
Economy: The U.S. trade gap widened to $40.6 billion in December -- the highest level in three months, according to a government data. Analysts surveyed by Briefing.com expected the trade balance to have widened to $40.4 billion, from $38.3 billion in November.
"Given the increase in imported crude oil prices, this was to be expected," said Orlando. "The trend is still intact that the combination of a weak dollar and strong overseas economies are driving pretty good export numbers."
The University of Michigan's preliminary consumer sentiment index for February edged up to 75.1, from 74.2 in January.
"The consumer continues to crank," said Orlando. "In terms of spending, consumers had their best Christmas in five years on top of the best back-to-school season in four years, so consumers are really gathering strength here."
Meanwhile, as expected, the White House proposed a plan to wind down beleaguered mortgage backing companies Fannie Mae and Freddie Mac, in an effort to reform the housing market.
Companies: Finnish mobile-phone maker Nokia (NOK) announced plans to use Microsoft's Windows Phone 7 smartphone platform, in a bid to compete with Apple's (AAPL, Fortune 500) iPhone and Google's (GOOG, Fortune 500) Android.
Nokia also announced a management shakeup, and a realignment of its business units. U.S.-listed shares of Nokia slumped 14%, while Microsoft (MSFT, Fortune 500) shares closed about 1% lower.
Shares of Borders Group Inc. (BGP) plummeted nearly 33% amid reports the bookseller is preparing to filing for bankruptcy.
Shares of Chipotle Mexican Grill (CMG) jumped nearly 5%, after the restaurant chain posted a rise in profit after the bell Thursday that topped economists' expectations.
Wynn Resorts (WYNN) also benefited from better-than-expected earnings results released late Thursday, with shares of the casino operator finishing 7% higher Friday afternoon.
World markets: European stocks closed higher on Egypt's news. Britain's FTSE 100 gained 0.7%, the DAX in Germany rose 0.4%, while France's CAC 40 edged up 0.2%.
Asian markets ended higher. The Shanghai Composite added 0.3% and the Hang Seng in Hong Kong ticked up 0.5%. Tokyo was closed for a holiday.
Currencies and commodities: The dollar rose against the euro, the Japanese yen and the British pound.
Oil for March delivery slumped $1.15 to settle at $85.58 a barrel.
Gold futures for April delivery slid $2.10 to settle at $1,360.40 an ounce.
Bonds: The price on the benchmark 10-year U.S. Treasury climbed, pushing the yield down to 3.64% from 3.68% late Thursday.