Stocks take worst hit in 2 weeks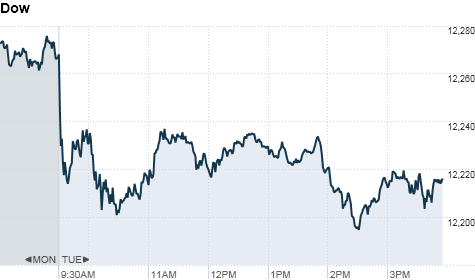 NEW YORK (CNNMoney) -- U.S. stocks finished lower Tuesday, posting the biggest losses in more than 2 weeks, as investors digested a weaker-than-expected report on January retail sales.
The Dow Jones industrial average (INDU) lost 42 points, or 0.3%, with Exxon Mobil (XOM, Fortune 500), Boeing (BA, Fortune 500) and Alcoa (AA, Fortune 500) leading the blue-chip index's decline.
The S&P 500 (SPX) fell 4 points, or 0.3%. NYSE Euronext (NYX, Fortune 500) -- the parent company of the New York Stock Exchange -- was one of the biggest losers on the index. Shares dropped 3.4% after the company announced it agreed to merge with Germany's Deutsche Boerse -- creating the world's largest exchange group.
The Nasdaq (COMP) slipped 13 points, or 0.5%, with a 2.7% drop in shares of Netflix (NFLX) weighing on the tech-heavy index. The losses came a day after the online movie rental company's stock rose to an all-time high. Chipmaker Qualcomm (QCOM, Fortune 500) said Monday it is developing a new platform, to bring Netflix and other video streaming services onto Google (GOOG, Fortune 500) Android-enabled smartphones.
It was the worst performance for all three indexes since Jan. 28.
The broad selling pressure came after the government reported that retail sales slowed in January, as consumers primarily focused on paying for groceries and gasoline.
"Investors are disappointed with the retail sales data from last month that came in below expectations," said Timothy Ghriskey, chief investment officer at Solaris Asset Management. "January is a squirrely month anyway, and we also had a lot of bad weather."
Stocks ended Monday's session mixed, as investors mulled over President Obama's 2012 budget proposal in a quiet trading session. The $3.7 trillion budget request would cut the nation's long-term deficit by about $1.1 trillion, over the next 10 years.
The market has been moving gradually higher this year, amid expectations of an improving economy. The S&P 500 is up nearly 6% so far in 2011.
"This market has proven to be extremely resilient, and I think it still has more upside to it," Ghriskey said.
Economy: The Commerce Department said retail sales rose 0.3% in January, down from an increase of 0.5% in December. Sales were expected to have gained 0.5% in January, according to consensus estimates from economists surveyed by Briefing.com.
Sales excluding autos and auto parts also rose to a weaker-than-expected 0.3% -- compared to a 0.5% increase in ex-auto sales in December. Economists had forecast a rise of 0.6% in the measure for January.
The price index for U.S. imports increased 1.5% in January, the U.S. Bureau of Labor Statistics stated. The report cited higher prices for fuel and nonfuel imports as contributors to the advance. U.S. export prices rose 1.2% in January, following increases of 1.5% in November and 0.6% in December.
A separate report from the government showed that business inventories rose 0.8% in December, after edging up 0.2% the previous month. Economists were expecting inventories to increase 0.6%.
The National Association of Homebuilders' preliminary housing market index for February held steady at 16, missing expectations to rise to 17.
Companies: Sirius XM Radio (SIRI) reported a loss of 2 cents per share in the fourth quarter, and issued a 2011 sales outlook that was slightly below analysts' expectations. Shares fell 8.2%.
Hotel chain Marriott (MAR, Fortune 500) announced late Monday its plans to split into two separate, publicly traded companies. Under the plan, Marriott will spin off its timeshare operations and development business as a new independent company. Shares were up 1.1%.
Shares of Dell (DELL, Fortune 500) rallied more than 6% after the closing bell. The company posting fourth-quarter results that showed earning per share of 53 cents, beating expectations, and $15.69 billion in sales, which came in slightly below expectations. For the current year, Dell issued an upbeat guidance, saying it expects sales to rise between 5% and 9%.
World markets: European stocks closed mixed. Britain's FTSE 100 fell 0.4%, while the DAX finished slightly higher and France's CAC 40 added 0.3%.
China's consumer price index rose 4.9% in January, up slightly from 4.6% growth in December, according to data released by the Chinese government Tuesday morning.
Asian markets ended mixed. The Shanghai Composite was flat and the Hang Seng in Hong Kong slid nearly 1%, while Japan's Nikkei added 0.2%.
Currencies and commodities: The dollar fell against the euro and and the British pound, but was higher versus the Japanese yen.
Oil for March delivery fell 49 cents to $84.32 barrel.
Gold futures for April delivery rose $9 to $1,374.10 an ounce.
Bonds: The price on the benchmark 10-year U.S. Treasury was unchanged, with the yield at 3.62%.