Stocks sink on oil fears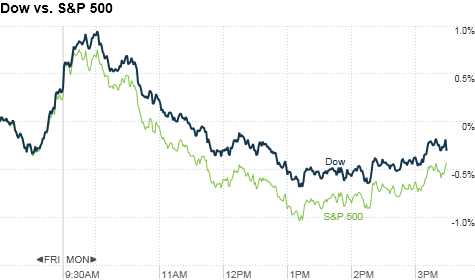 NEW YORK (CNNMoney) -- Surging oil prices continued to rain on the stock market's parade at the start of the week. Add a lagging tech sector and Greece's latest debt woes to the mix, and Monday was a downer to say the least.
The Dow Jones industrial average (INDU) sank 80 points, or 0.7%; the S&P 500 (SPX) fell 11 points, or 0.8%; and the tech-heavy Nasdaq (COMP) shed 40 points, or 1.4%.
"It's pretty clear that we're dealing with international and Middle East tensions here," said Jason Pride, director of investment strategy at Glenmede. "The reality is, oil is getting into the price range now where people are going to start questioning its impact on the broader economy."
Investors are keeping a close eye on commodities, after crude oil rose to more than $106 a barrel early Monday on continued tensions in Libya. Oil finished the day at about $105.44, an increase of more than a dollar.
"The stock market wants to bask in the recent slew of good economic data, but its Achilles' heel is this oil market right now," said Phil Flynn, senior market analyst with PFG Best. "This is really a situation that we're going to have to monitor every day."
Meanwhile, gold set a new intraday record in early trading, rising to $1,445 an ounce, as investors sought safety in the precious metal. It pared back those gains later in the day though, settling at $1,434.50 an ounce on the Chicago Mercantile Exchange.
U.S. stocks managed to claw out gains last week, despite a sharp sell-off on Friday.
Companies: Tech stocks dragged on the entire market after Wells Fargo downgraded the semiconductor sector Monday. Intel (INTC, Fortune 500) fell 1.6% and the Philadelphia Semiconductor Index (SOX) dropped 2.7%.
Western Digital's (WDC, Fortune 500) stock climbed 15.6%, after the company agreed to acquire Hitachi's (HIT) hard disk drive business. The stock and cash transaction is valued at $4.3 billion.
Western Digital's top rival, Seagate Technology (STX), rose 9% on the news.
Starbucks (SBUX, Fortune 500) stock rose 1.5%, after Morgan Stanley analysts upgraded the company's price target and CEO Howard Schultz told the Wall Street Journal the coffee company is planning several acquisitions over the next 12 to 18 months to bolster its consumer products division.
Starbucks is kicking off a campaign celebrating its 40th anniversary this week, starting with newspaper articles Monday and rolling out with television ads and in-store promotions Tuesday.
World markets: Analysts at Moody's slashed Greece's credit rating three notches Monday to B1.
"The country's very large debt burden and the significant implementation risks in its structural reform package both skew risks to the downside," Moody's wrote in its report.
European stocks finished lower. Britain's FTSE 100 lost 0.3%, France's CAC 40 fell 0.7% and the DAX in Germany eased 0.2%.
Asian markets ended mixed. The Shanghai Composite jumped 1.8%, while the Hang Seng in Hong Kong slid 0.4% and Japan's Nikkei tumbled 1.8%.
Economy: Consumer credit increased by $5 billion in January, according to a report by the Federal Reserve released Monday afternoon. Economists surveyed by Briefing.com had expected consumer credit to have increased by $3.3 billion in January.
Currencies: The dollar gained against the euro and the British pound, but fell versus the Japanese yen.
Bonds: The price on the benchmark 10-year U.S. Treasury rose, pushing the yield down to 3.50% from 3.55% late Friday.