Stocks: Oil and banks in focus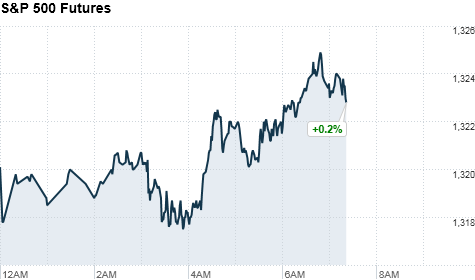 NEW YORK (CNNMoney) -- U.S. stocks were poised for a flat open Wednesday, as investors continue to monitor developments in Libya.
Dow Jones industrial average (INDU), S&P 500 (SPX) and Nasdaq (COMP) futures were slightly higher. Futures measure current index values against perceived future performance.
Investors remain on edge. Oil prices have been surging for weeks and there's been little on the domestic front to help give stocks a sustained boost.
U.S. stocks closed broadly higher Tuesday, led by a strong performance in the financial sector. Bank of America (BAC, Fortune 500) CEO Brian Moynihan issued a rosy multi-year outlook at the bank's first shareholder meeting in four years, sending BofA shares up 3.5% and giving other retail banks a boost.
The positive news from BofA was carrying over to premarket trading on Wednesday, said Dick Del Bello, senior partner with Conifer Group. "But it's secondary to oil and the Middle East," he said.
Oil prices dipped below $105 a barrel in electronic trading, extending Tuesday's declines. But the outlook for oil prices remains cloudy.
"Oil is not going to $150 to $200 [a barrel], which would put the world into a recession," said Del Bello. "Maybe we have a little bit of calming. I would call this a calm in the storm - the eye of the storm."
Investors are likely to remain focused on geopolitical developments and crude prices. Traders are worried that growing unrest in North Africa and the Middle East will undermine oil output from the region, which could drag on the global economic recovery.
Economy: The Commerce Department's wholesale inventories report is due at 10 a.m. ET. Economists expect they rose an average 1% in January, according to a consensus estimate from Briefing.com.
Companies: A few mall-based retailers report quarterly results, including American Eagle Outfitters (AEO), before the opening bell. After the close, Hot Topic (HOTT) and Coldwater Creek (CWTR) will release their earnings.
World markets: European stocks were mixed in morning trading. Britain's FTSE 100 slid 0.3%, but the DAX in Germany rose and France's CAC 40 edged up 0.1%.
Portugal experienced a jump in yields as it issued two-year bonds on Tuesday, but fears of a potential bailout didn't have much impact on international markets.
Asian markets ended the session with gains. The Shanghai Composite rose nearly 0.1%, the Hang Seng in Hong Kong added 0.4% and Japan's Nikkei advanced 0.6%.
Currencies and commodities: The dollar slipped versus the euro and the British pound, but was flat against the Japanese yen.
Gold futures for April delivery rose $6.50 to $1,433.70 an ounce.
Bonds: The price on the benchmark 10-year U.S. Treasury was slightly higher, with the yield slipping to 3.53% from 3.54% late Tuesday.