Stocks headed for lower open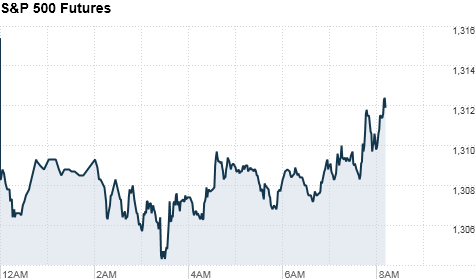 NEW YORK (CNNMoney) -- U.S. stocks were poised to follow overseas markets lower Thursday, after China reported a surprise trade deficit and Spain's credit rating was lowered one notch.
Dow Jones industrial average (INDU), S&P 500 (SPX) and Nasdaq (COMP) futures were lower ahead of the opening bell. Futures measure current index values against perceived future performance.
A wider U.S. trade gap and a slightly worse-than-expected jobless claims report pressured futures but analysts expect that to ease as investors digest the data.
Mark Luschini, chief investment strategist for Janney Montgomery Scott, said the negative impact from jobless claims was limited by the fact that they still remained below the 400,000 benchmark.
U.S. stocks closed little changed Wednesday in a mostly quiet session, as investors tracked developments in Libya and oil prices. But the tone Thursday was bearish, as shares in Asia fell sharply and European markets were under pressure.
China reported a surprise trade deficit, as imports outpaced exports in February for the first time in nearly a year -- although officials attributed the deficit to the Chinese New Year celebration.
In addition, the European debt crisis has returned to the forefront this week, with Moody's lowering Spain's credit rating Thursday, after downgrading Greece earlier this week.
Oil prices eased off recent highs Thursday, but remained elevated as investors worry about potential supply disruptions stemming from the turmoil in North Africa and the Middle East.
World markets: European stocks fell in midday trading. Britain's FTSE 100 edged down 1%, the DAX in Germany fell about 0.7% and France's CAC 40 declined 0.7%.
Moody's cut Spain's government bond rating to Aa2 with a negative outlook from Aa1, and said further downgrades are possible. (Moody's lowers Spanish rating)
Asian markets ended sharply lower. The Shanghai Composite fell 1.5%, the Hang Seng in Hong Kong slid 0.8% and Japan's Nikkei tumbled 1.4%.
China reported a $7.3 billion trade deficit in February, as imports soared and exports rose only slightly. Government officials attributed the cooling exports to Chinese New Year, when the country's manufacturing output slowed dramatically.
Imports last month totaled $104 billion, 19.4% higher on an annual basis, and exports were $96.7 billion, an increase of 2.4%, according to China's General Administration of Customs.
Economists had expected China to report a trade surplus in February. The monthly deficit was the country's first since March 2010.
Economy: Two U.S. economic reports came out before the markets open.
The U.S. trade balance for January widened to $46.3 billion, a five-month high. This was much wider than the $41.5 billion gap forecast, according to a consensus estimate from Briefing.com.
The U.S. Department of Labor released the latest weekly initial unemployment claims data, which totaled 397,000. Economists expected the number of people filing for first-time benefits to have risen to 382,000 last week from 368,000 the previous week.
Companies: Starbucks (SBUX, Fortune 500) and Green Mountain Coffee (GMCR) announced a deal that will put Starbucks coffee into Green Mountain's K-Cup single-cup brewing packets.
Shares of Green Mountain were up 9% in premarket trading, Starbucks stock was up more than 1% on the deal.
Hospital chain HCA (HCA) raised its public offering to 126.2 million shares at a price of $30 per share, according to published reports. It is considered to be the largest private-equity backed IPO in U.S. history, according to Renaissance Capital, raising an estimated $3.8 billion for both the company and existing shareholders.
Currencies and commodities: The dollar rose against its main trading partners, including the euro, the Japanese yen and the British pound.
Oil for April delivery slipped $1.02 to $103.36 a barrel.
Gold futures for April delivery fell $10.10 to $1,419.50 an ounce.
Bonds: The price on the benchmark 10-year U.S. Treasury rose, pushing the yield down to 3.46% from 3.47% late Wednesday.