'Dr. Copper' thinks the market is sick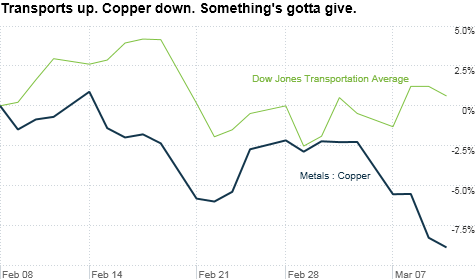 NEW YORK (CNNMoney) -- Copper prices have plunged in the past week. They actually started to dip ahead of Thursday's tepid economic data-inspired market rout.
That's one reason why traders follow copper extremely closely, even dubbing the reddish-brown metal Dr. Copper because of its expertise in predicting economic scenarios.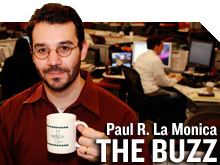 The case for why copper is a barometer worth watching is simple. More so than gold, silver and other precious metals, copper is a base metal that is widely used to help manufacture goods ranging from autos and plumbing pipes to semiconductors and telecom and cable wiring.
So a sharp drop in copper prices often is a sign that industrial demand may be slipping. Lo and behold. That does appear to be happening around the globe.
Investors are growing increasingly nervous about the spike in oil prices in the past month or so as political upheaval made its way across North Africa, hopscotching from Tunisia to Egypt to Libya.
The increase in crude prices has caused a massive surge in gas prices in the United States. And that has some wondering if pain at the pump could lead to consumers pulling back on the purchases of other goods. A rise in food prices globally isn't helping matters either.
Then there's China. It reported a surprise trade deficit -- which admittedly may be due in large part to the Chinese New Year slowdown. But there are other signs of cooling demand in China as central bankers there are firmly in inflation-fighting mode.
Add that all up and it makes sense for copper to be down nearly 10% since peaking in mid-February. That's not encouraging news.
"Copper was one of the first rallying points for this market two years ago as worldwide growth picked up," said Keith Springer, president of Springer Financial Advisors in Sacramento, Calif. "I'm not sure yet if it's a precursor of a big pullback, but it could be a sign that the global economy may be cooling off."
It makes sense. With stocks having nearly doubled from their bear market lows of two years ago, there are questions about whether or not traders have become too enthusiastic, if not downright complacent, about the state of the economy.
Sure, the economy is in better shape than it was two years ago. Andrew Busch, global currency and public policy strategist with BMO Capital Markets in Chicago, points out that copper prices had also surged dramatically, so some sort of pullback could actually be healthy and should have been expected.
But he did concede that this is a steep decline. Copper prices have now given up all their gains for the year. And the fact that a jump in oil prices has been enough to spook investors and consumers so much shows just how tenuous the recovery really is.
"There have been some strange trade numbers that reflect a drop in demand," said Busch. "One has to believe that higher oil is not a good development for the global economy and U.S. recovery, particularly since we import so much."
Another possible cause for concern is that shares of some of companies that are the most economically sensitive, transportation stocks, have actually outperformed the broader market despite all the worries about oil. That doesn't normally happen.
The Dow Jones Transportation Average (DJT), a collection of 20 truckers, airlines and railroads, has held up reasonably well in the past month, clinging to a gain even as the broader Dow Jones Industrial Average (INDU) has fallen.
The transports outperformed on Thursday too, dropping less than a percent compared to a 1.4% decline for the Dow industrials.
Of course, the decline in oil prices Thursday may be helping the trains, planes and trucks.
But John Kosar, director of research with Asbury Research in Chicago, said it's unusual for transportation stocks to outperform during times of economic uncertainty. He noted that the Dow Jones transports and copper actually tend to trade in tandem.
So either copper is oversold, suggesting the market may be due to for a near-term bounce, or transports are ahead of themselves, indicating more volatility for the markets and economy in the coming months. Unfortunately, he thinks the latter case is true.
"The historical correlation between copper and the transports has been pretty tight and stable for the past 20 years," Kosar said. "So something now looks mispriced and it's probably the transports. That's a red flag."
-- The opinions expressed in this commentary are solely those of Paul R. La Monica. Other than Time Warner, the parent of CNNMoney, and Abbott Laboratories, La Monica does not own positions in any individual stocks.