Stocks poised for gains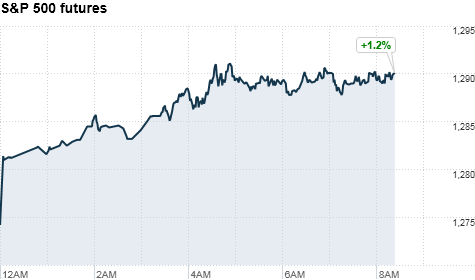 NEW YORK (CNNMoney) -- U.S. stocks were poised to open higher Monday, as investors felt encouraged by progress in Japan's nuclear crisis and AT&T's $39 billion deal to acquire T-Mobile USA.
Dow Jones industrial average (INDU), S&P 500 (SPX) and Nasdaq (COMP) futures were all about 1% higher ahead of the opening bell. Futures measure current index values against perceived future performance.
Over the weekend, Japanese engineers made progress in cooling nuclear reactors that had overheated following the devastating earthquake and tsunami that struck the country on March 11.
Meanwhile, turmoil in North Africa heated up over the weekend. The United States and its allies launched an airstrike on Libyan military targets, in an effort to subdue forces of Libyan leader Moammar Gadhafi.
Oil prices jumped about $2 a barrel in electronic trading, following the attack. (CNN.com coverage of Libya)
"Not only is the Japanese situation looking better than it was where we ended last week, the situation in Libya is seeming tamed by unilateral forces -- and that's relieving some of the tension investors felt ahead of the weekend," said Mark Luschini, managing director of Janney Montgomery Scott.
Investors also welcomed an announcement from AT&T (T, Fortune 500) on Sunday, that it will acquire T-Mobile USA from telecommunications company Deutsche Telekom for an estimated $39 billion in cash and stock.
"Deal activity speaks of CEO confidence," Luschini said.
The new entity -- if approved by regulators -- would be the biggest in the United States, combining AT&T's 95 million customers with T-Mobile's 34 million users for a total of 130 million subscribers.
AT&T shares were up 3% in pre-market trading. Meanwhile, shares of rival Sprint Nextel (S, Fortune 500) fell 12% in premarket. And Verizon's (VZ, Fortune 500) stock edged up about 2%.
U.S. stocks ended higher Friday, but the ongoing turmoil in Japan led indexes to end lower for the week.
The Dow ended the week 1.5% lower, while the S&P 500 lost 1.9% and Nasdaq dropped 2.7%. The Dow and S&P 500 remain modestly higher for the year, but last week's declines have put the Nasdaq down 0.4% year-to-date.
Economy: The housing sector will be in focus Monday when the National Association of Homebuilders reports on February existing home sales.
Economists expect sales to come in at an annual rate of 5.05 million in the month, down from 5.36 million the month before, according to consensus estimates from Briefing.com.
Companies: Tiffany and Co. (TIF) shares rose 5.6% in pre-market trading, after the luxury retailer beat analysts' forecasts with earnings of $1.41 per share in its latest quarter.
Citigroup (C, Fortune 500) shares rose 3.3% after the bank announced a 1-for-10 reverse stock split and said it plans to reinstate its quarterly dividend.
World markets: European stocks were higher in morning trading. The DAX in Germany gained 2%, France's CAC 40 rose 1.9%, and Britain's FTSE 100 added 1.1%.
Asian markets ended higher. The Shanghai Composite ticked up less than 0.1%, while the Hang Seng in Hong Kong added 1.7%. Japanese markets were closed for a national holiday.
Currencies and commodities: The dollar gained against the euro and the Japanese yen, but was flat versus the British pound.
Gold futures for April delivery rose $17, or 1.2%, to $1,433.10 an ounce.
Bonds: The price on the benchmark 10-year U.S. Treasury fell, pushing the yield up to 3.33% from 3.26% late Friday.