Stocks finish higher thanks to afternoon boost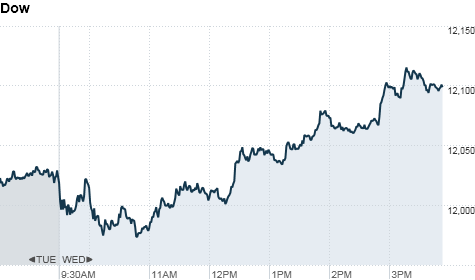 NEW YORK (CNNMoney) -- U.S. stocks finished higher Wednesday, thanks to a late-day advance, as investors shrugged off jitters about turmoil in the Middle East and Japan's nuclear issues.
The Dow Jones industrial average (INDU) closed 67 points higher, or 0.6%, led by a 3% jump in shares of Alcoa (AA, Fortune 500). Bank of America (BAC, Fortune 500) was the worst performer on the blue-chip index. The bank said it will need to revise its dividend plan after the Fed rejected the bank's initial proposal.
The S&P 500 (SPX) rose 4 points, or 0.3%, and the Nasdaq Composite (COMP) added 14 points, or 0.5%.
Traders spent most of Wednesday and the previous session on the sidelines, unwilling to place any big bets as global concerns linger.
"Investors are waiting to see if things will get worse or smooth out," said Ron Kiddoo, chief investment officer at Cozad Asset Management.
But with a lack of any significant developments, investors began to tiptoe their way back into the market late Wednesday afternoon.
"We've been watching for more news out of Japan and the Middle East, but there's not much new information, so that's improving some confidence," said Paul Radeke, vice president at KDV Wealth Management. "There's a lot of pent-up demand, and a lack of further bad news will lift the market."
Prior to the afternoon upturn, investors had been taking a wait-and-see approach, and volume has remained light.
A disappointing housing report didn't help matters much, but after a brief blip, investors largely shrugged off the data, which showed new home sales tumbled to a record low last month.
World markets: The Egyptian market plunged Wednesday. The stock market in Egypt had been closed since Jan. 27, and most traders had already anticipated the sharp drop.
Other world markets were stronger. Asian markets ended mixed. The Shanghai Composite added 1%, while the Hang Seng in Hong Kong edged down 0.1%.
Japan's Nikkei closed 1.7% lower, but it was the smallest percentage change in the index since the massive earthquake and devastating tsunami.
On Wednesday, the Japanese government said the quake would cost the nation $300 billion -- more than double the cost of the Kobe quake in 1995, according to published reports.
European stocks ended higher. Britain's FTSE 100 gained 0.6%, the DAX in Germany rose 0.4% and France's CAC 40 increased 0.5%.
Companies: Shares of General Mills (GIS, Fortune 500) dropped 1.8%. The cereal maker, which raised prices in October, said its fiscal third-quarter earnings rose 18%, though U.S. sales were slightly lower.
Adobe Systems (ADBE) was the biggest decliner on the S&P 500 and Nasdaq. Shares sank 3.7% after the software maker lowered its second-quarter earnings forecast, saying the earthquake and tsunami in Japan will curb sales.
Shares of homebuilder PulteGroup (PHM) rose 3.6% after Goldman Sachs raised its price target on the stock.
Jabil Circuit's (JBL, Fortune 500) stock jumped almost 11%, leading the gainers in the S&P 500. The electronics manufacturing company posted a profit and sales figures above expectations late Tuesday.
Currencies and commodities: The dollar rose against the euro and British pound, but fell versus the Japanese yen.
Meanwhile, commodity prices gained across the board.
Oil for May delivery, which became the front-month contract Wednesday, settled up 78 cents, or 0.7%, to $105.75 a barrel as fighting in Libya continued. Natural gas prices also rose, climbing almost 2% to $4.34 per thousand cubic feet.
Gold futures for April delivery rose $10.40, or 0.7%, to settle at a fresh record high of $1,438 an ounce as unrest in the Middle East and concern about Europe's debt crisis spurred demand for an alternative investment, said Sameer Samana of Wells Fargo Advisors.
The price of silver rose to its highest level in over 30 years, topping $37 an ounce. Platinum, palladium and copper prices also advanced.
Bonds: The price on the benchmark 10-year U.S. Treasury was slightly lower, pushing the yield up to 3.35% from 3.33% late Tuesday.