Is Cisco dead money?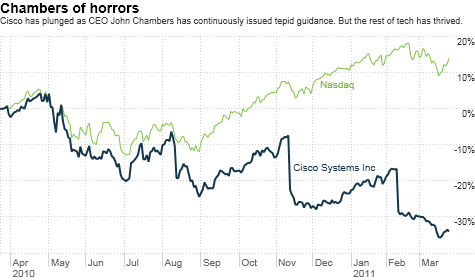 NEW YORK (CNNMoney) -- Cisco Systems has become the stock that people love to hate.
Shares of the once-hot networking equipment maker (remember when investors thought it would be the first $1 trillion market value company back in 1999?) are down more 13% this year. That makes it the worst performer in the Dow (INDU) in 2011.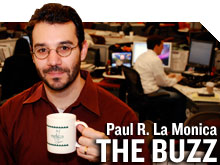 Cisco (CSCO, Fortune 500) hit a 52-week low last week. Heck, it couldn't even make it out of the first round of our reader's choice March Stock Mania bracket. It got trounced by Goldman Sachs (GS, Fortune 500).
But a curious thing has happened in the past few days. The stock has bounced back about 3% from last week's nadir. The reason? Cisco finally gave details about its long-awaited dividend. The company plans to pay a 6-cents per share dividend each quarter starting in April.
It's an ironic twist. The reason Cisco has been so despised as of late is because momentum investors are sick and tired of sluggish growth and an increasingly wary tone from CEO John Chambers. The knock on Cisco is that it's no longer a growth stock.
"People are frustrated with Chambers. It always looks like the numbers are decent but then Chambers talks down the guidance during the conference call," said Ted Parrish, co-manager of the Henssler Equity Fund (HEQFX) in Kennesaw, Ga., which owns the stock. "You want the CEO to sometimes defend the company instead of being so cautious."
But by finally issuing a dividend, Cisco may now be embraced by value investors for the very same reasons that make the stock no longer a sexy growth play.
So has Cisco bottomed? And even if it has, is it primed for more substantial gains or will it just continue to be dead money for years?
The bull case Cisco is being fairly generous with its dividend. The yield will be about 1.4%. To put that in context, it's only a little lower than the S&P 500's average yield of around 1.8%
Cisco's yield will be higher than that of several other large tech firms that have been paying dividends for years, including HP (HPQ, Fortune 500) and Oracle (ORCL, Fortune 500). And it's substantially higher than the "starter" dividends that Microsoft (MSFT, Fortune 500) and Qualcomm (QCOM, Fortune 500) issued way back in 2003. Their first dividends yielded less than 1% at the time.
What's more, it's reasonable to expect that Cisco could easily amp up its dividend in the coming years.
Cisco has about 5.5 billion shares so its 24 cents per year payout works out to about $1.3 billion annually to shareholders. Chump change for a company that has $40 billion in "caysh" (John Chambers has the best accent!) on its balance sheet.
And then there's the valuation. Cisco is now trading at just 11 times fiscal 2011 earnings estimates. That's the kind of multiple you expect for an automaker or aluminum company. Yeah, Cisco's mature. But is it that mature?
It might be.
The bear case Cisco's profits are expected to dip slightly this year and only rise about 10% in 2012.
It's no wonder then that investors are more enamored with upstart rivals like Juniper Networks (JNPR) and F5 Networks (FFIV). Analysts expect annual earnings growth of 19% a year on average for Juniper over the next few years and 23% for F5.
"There are so many fundamental issues going on right now. With all the competitive pressures, the fact that Cisco is paying a dividend doesn't change the story that much," John Snyder, manager of the John Hancock Sovereign Investors Fund (SOVIX) in Berwyn. Pa. Snyder said he sold Cisco last year.
Jason McPharlin, portfolio manager at Northstar Capital Management, a Palm Beach Gardens, Fla. investment firm, said he also sold Cisco about a month ago. It was a holding in its growth portfolio.
"We sold it because of slowing growth," he said, adding that he'd consider buying it again for an equity-income portfolio his firm runs. But Cisco would have to significantly raise its dividend first.
That may very well happen. But Cisco clearly is not going to give up trying to find more robust markets beyond its bread-and-butter business of selling switches and routers to large corporations.
The company has been a serial acquirer over the past decade, scooping up companies ranging from home networking equipment maker Linksys and Flip video camera owner Pure Digital to cable set-top box giant Scientific-Atlanta and video conferencing firm WebEx.
Cisco may not be done shopping either. A rumor was making the rounds Thursday that Cisco may be interested in Finisar (FNSR), an optical networking company whose stock plunged earlier this month after warning about a slowdown in orders from Chinese customers.
But if Cisco were to attempt another large deal, that could present more problems for investors who feel the company may already be stretched too thin.
"It's hard to move the needle when you are already so big," McPharlin said.
So Cisco is in a really tough, transitional spot right now. Parrish sums it up best by referring to the company as a "mature growth" stock. That's a bit of a contradiction in terms, of course. You're usually either one or the other.
Parrish would prefer that Cisco was more growth-y and less mature. He said he's happy Cisco is finally parting with some of its cash, but he'd be more excited if earnings growth accelerated too.
"I still own Cisco but my patience is wearing very thin," he said. "The dividend does help but If Cisco's stock doesn't start moving later this year, I'll be looking for other opportunities."
-- The opinions expressed in this commentary are solely those of Paul R. La Monica. Other than Time Warner, the parent of CNNMoney, and Abbott Laboratories, La Monica does not own positions in any individual stocks.