Obama's cursed energy hand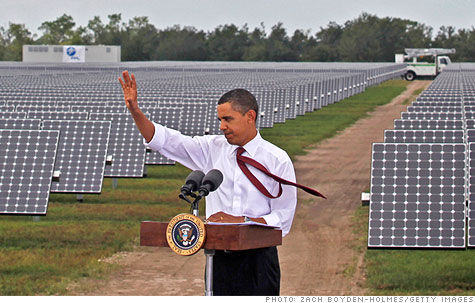 NEW YORK (CNNMoney) -- President Obama has had some pretty lousy luck with his energy plans.
Last March he proposed opening up new areas of the country for offshore oil drilling. A month later BP's rig blew up in the Gulf of Mexico.
This year he asked for $36 billion to help build new nuclear plants. Within weeks at least three reactors at a Japanese nuclear plant were on the verge of a meltdown.
His capstone plan to regulate greenhouse gas emissions failed in the Senate. Governors are giving back his high speed rail money. His energy czar is gone.
"He picked the three losers right from the start," said Kevin Book, a managing director at the research firm ClearView Energy Partners, referring to the greenhouse gas law, oil drilling and nuclear power. "His timing couldn't be worse."
To be fair, a lot of this isn't Obama's fault. But just what has the president accomplished on the energy front, and where can he go from here?
On Wednesday Obama will outline a plan to reduce the nation's imports of foreign oil by a third in a little over 10 years, mainly through increased domestic production, conservation, and a shift to biofuels and natural gas.
In 2010 the nation imported about 9.5 million barrels of oil, gasoline and other related products a day and used just over 19 million barrels a day, according to the Energy Information Agency.
Despite calls for more drilling, Book said the Obama administration has actually made fewer areas available for oil and gas exploration, and not just because of the BP spill.
Onshore, leases in Utah granted under the Bush administration have been rescinded over environmental concerns.
Just prior to the BP spill, the Obama administration had called for opening up more areas for offshore drilling. But Book says that was a bit of a ruse.
Those areas were supposed to be open anyway under polices put forth by the Bush administration. Obama held them up, and said he might open them if Congress was willing to bargain on other energy issues, primarily passing a cap on greenhouse gasses. Thanks to the BP spill, that bargaining never happened and most of those areas remain off limits.
On the coal front, Obama has been reining in the energy companies, primarily though aggressive restrictions via the Environmental Protection Agency surrounding mountain top mining.
"Almost everything that has been done is to ratchet back the decisions of the Bush administration,' said Book. "It's largely been a restrictive policy."
The Obama administration did not respond to an email seeking comment on its overall energy policies.
The administration does get credit for advancing a few of its energy goals.
The administration has approved expanded coal sales out of Wyoming's Powder River Basin, something Book cited as an example of it promoting domestic energy production.
It was successful in raising fuel efficiency standards at an even faster pace than dictated under the 2007 energy act -- boosting them to 36 miles per gallon by 2016.
A White House official said Tuesday that Obama will work to raise them even higher for models in 2017 and beyond.
And despite the ongoing crisis at Japan's Fukushima Daiichi nuclear facility, in his speech Wednesday Obama will reaffirm his support for a clean energy standard that would require utilities to buy 80% of their power from "cleaner" sources like wind and solar, as well as nuclear, natural gas and clean coal by 2035.
There is bipartisan support for this idea, although Congress has yet to pass such a measure.
Also, the administration pushed to get the subsidies for renewable energy converted to out right grants, which has greatly helped that industry.
On Wednesday the President is also expected to push for increased use of natural gas in trucks and buses and the construction of four commercial-scale biofuel plants in the next two years that don't rely on food crops.
"While the President's budget places significant emphasis on new technology investment, our near term economic security demands continued efforts to develop and improve upon existing energy resources," said Jason Grumet, president of the Bipartisan Policy Center, a think tank. "The Administration's support for increased oil and gas production and new nuclear facilities recognizes this reality."
Yet despite Wednesday's expected announcement, many energy insiders will likely continue to bemoan the nations' lack of a coherent energy policy.
That sentiment was most recently summed up at a Houston energy conference by John Rowe head of utility giant Exelon, who paraphrased an old industry saying on the country's energy policy: If it produces, tax it. If it produces too fast, regulate it. And if it doesn't produce at all, subsidize it.