Stocks quiet before Friday's jobs report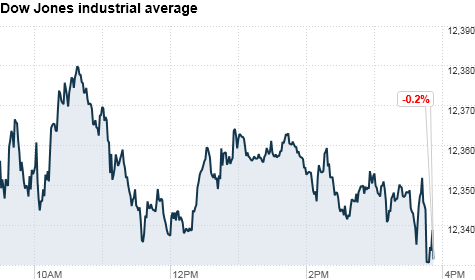 NEW YORK (CNNMoney) -- U.S. stocks quietly ended a turbulent, headline-filled first quarter on Thursday, with investors remaining in a holding pattern ahead of tomorrow's jobs report.
The Dow Jones industrial average (INDU) fell 31 points, or 0.2%. Intel (INTC, Fortune 500) shares were among the biggest decliners on the Dow, falling 1.4% after analysts at FBR Capital cut their price target on the chipmaker.
The S&P 500 (SPX) fell 2.4 points, or 0.2%; and Nasdaq Composite (COMP) rose 4 points, or less than 0.2%.
U.S. stocks posted solid gains this quarter, despite three months of geopolitical turmoil in the Middle East, the March earthquake and nuclear crisis in Japan, and lingering concerns about the U.S. economy. The Dow rose 6.5%, the S&P 500 up 5.6% and the Nasdaq up 4.8% in the first three months of the year.
"You've had a very resilient market in light of the headline news this quarter," said Quincy Krosby, market strategist with Prudential Financial. "But this market has been enjoying very loose monetary policy, which has helped offset the geopolitical concerns."
Fund managers and traders said they don't expect the second quarter to be a repeat performance of the last three months, especially with the lingering geopolitical uncertainty.
"If I had known these headlines were going to cross this past quarter, I would have cashed out of the market and hid under my bed," said Jack Ablin, chief market strategist for Harris Private Bank. "It's remarkable how well this market has held up."
It was a mostly quiet session on Thursday, with traders focusing on the jobs market. The Labor Department said weekly jobless claims fell to 388,000 in the week ended March 26, which was slightly higher than what economists expected.
On Friday, the government will release the closely watched monthly jobs report. A CNNMoney survey of 18 economists forecasts a 180,000 jump in payrolls for March, with the unemployment rate holding steady at 8.9%.
Dick Del Bello, senior partner with hedge fund service provider Conifer Group, said investors are relatively optimistic about the job market, despite being frustrated with its slow recovery.
"I think the anticipation is that the job market is improving," he said. "It's slow, but it's improving. I think everyone would like to see it happen faster, but that's not going to happen."
U.S. stocks ended Wednesday with solid gains, after two upbeat reports on job growth.
Economy: The Chicago-area purchasing managers' index for March fell to a reading of 70.6, compared to February's reading of 71.2. Economists were looking for a reading of 68.9.
The Commerce Department said factory orders fell by 0.1% in February. Economists had expected a 0.4% rise.
Companies: Shares of Warren Buffett's Berkshire Hathaway (BRKA, Fortune 500) fell 2% , after Buffett's heir apparent, David Sokol, quit. In a press release Wednesday, Buffett said the resignation was a "total surprise," but he also revealed that Sokol had purchased shares of Lubrizol (LZ, Fortune 500) before pushing him to buy the company in March for $9.7 billion.
Shares of defense contractor Northrup Grumman (NOC, Fortune 500) fell 9% after analysts at Citigroup cut their price target for the company.
World markets: European markets closed broadly lower following the stress test results in Ireland. Britain's FTSE 100 fell 0.7%, the DAX in Germany fell 0.2%, while France's CAC 40 slipped 0.9%.
Asian markets ended mixed. The Shanghai Composite fell 0.9%, while the Hang Seng in Hong Kong ticked up 0.3% and Japan's Nikkei added nearly 0.5%.
Treasury Secretary Tim Geithner, in China for a meeting of G-20 finance ministers, said developing nations need flexible exchange rates to help absorb economic shocks. His comments came a day after criticism of U.S. monetary policy by a Chinese economist.
Currencies and commodities: The dollar fell against the euro and the Japanese yen, but was flat versus the British pound.
Oil for May delivery gained $2.36 to $106.63 a barrel.
Gold futures for June delivery rose $15.10 to $1,438.90 an ounce.
Bonds: The price on the benchmark 10-year U.S. Treasury rose slightly, pushing the yield down to 3.43% from 3.45% late Wednesday.