Stocks end flat after Fed minutes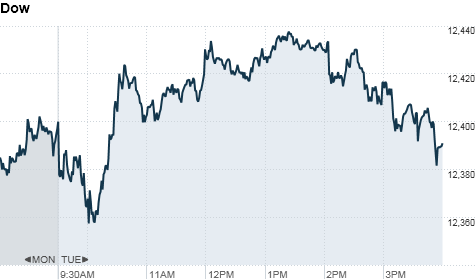 NEW YORK (CNNMoney) -- U.S. stocks ended little changed Tuesday, as investors weighed hawkish meeting minutes from the Federal Reserve.
The Dow Jones industrial average (INDU) fell 6 points, or less than 0.1%, to close at 12,394. The S&P 500 (SPX) slipped less than 1 point to 1,332; the Nasdaq Composite (COMP) edged up 2 points to 2,791.
Stocks were supported by gains in semiconductor companies after Texas Instruments (TI) announced a $6.5 billion bid for rival National Semiconductor (NSM). Shares of National Semiconductor surged 72%.
But the market came under pressure after meeting minutes from the Federal Reserve raised speculation that the U.S. central bank could raise rates later this year amid rising inflation.
"A few participants indicated that economic conditions might warrant a move toward less-accommodative monetary policy this year," read the minutes -- that's Fed-speak for raising interest rates or selling assets to try to curb inflation.
Dave Rovelli, managing director of U.S. equity trading at Canaccord Adams, said the minutes showed that some Fed officials are "starting to get a little hawkish."
The minutes confirmed that the Fed will wind down its asset buying program in June, as expected, and fueled speculation that it will hike interest later this year, Rovelli added.
"If commodity prices dip, then they'll be forced to start tightening," he said. "And when they do that, its bad for the market, even though rates are still low."
Meanwhile, investors were also spooked by a surprise interest rate hike by The People's Bank of China and another downgrade of Portugal's sovereign debt.
Looking ahead, many investors are expecting the European Central Bank to announce plans to increase interest rates on Thursday.
Stocks closed little changed Monday, as as investors took a wait-and-see approach about the economy.
Companies: Nasdaq OMX Group announced Tuesday it will rebalance its tech-heavy Nasdaq-100 index, reducing Apple's weight by almost 40% -- to 12.3% from 20.5%. The change takes effect on May 2.
The change will lend more weight to Google (GOOG, Fortune 500), Intel (INTC, Fortune 500), Microsoft (MSFT, Fortune 500) and Oracle (ORCL, Fortune 500). Apple shares were down about 0.7%
"Those investors who've got a portfolio tracking that index will need to sell Apple shares to rebalance their portfolio," said James Cordwell, digital equity analyst with Atlantic Equities in London. "Investors would have to shift from Apple to Oracle and Microsoft."
The Nasdaq -100 includes the 100 largest non financial companies listed on the Nasdaq exchange -- not to be confused with the Nasdaq Composite, which includes all of the roughly 3,000 companies listed on the exchange.
KB Home (KBH) shares fell 4%, after the homebuilder announced a quarterly loss of $114.5 million or $1.49 a share. That's far deeper than the loss analysts were expecting.
Shares of Expedia (EXPE) rose 1.3%, after American Airlines announced the two companies will resume doing business together after reaching an agreement on airfare sales.
Diamond Foods, Inc (DMND) and Procter & Gamble Company (PG, Fortune 500) announced plans to merge P&G's Pringles chips business under Diamond Foods. Shares of Diamond Foods surged nearly 7%, after the $2.35 billion deal was announced.
Economy: A report from the Institute for Supply Management showed that activity in the service-sector eased slightly last month. The ISM non-manufacturing index fell to 57.3 in March from 59.7 in February.
Economists are looking for the index to slip slightly to 59.5, compared with last month's reading of 59.7 -- a level that would still indicate expansion in the sector.
World markets: European stocks ended slightly lower. The FTSE 100 in London fell 0.1%, while the DAX in Germany and France's CAC 40 were flat.
Japan's Nikkei ended 1% lower. Markets in Shanghai and Hong Kong were both closed for a holiday.
Currencies and commodities: The dollar rose against the euro and the Japanese yen, but fell against the British pound.
Crude oil for May delivery slipped 13 cents to $108.34 a barrel.
Gold futures for June delivery surged $21.60 to another record high of$1,450.01 an ounce in non-inflation adjusted terms.
Bonds: The price on the benchmark 10-year U.S. Treasury rose, pushing the yield down to 3.41% from 3.43% late Monday.