War veterans go solar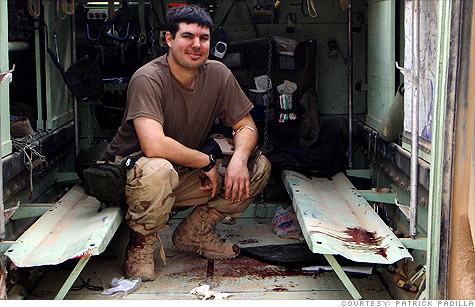 SIMI VALLEY, Calif. (CNNMoney) -- During the Iraq war it was combat medic Patrick Padilla's job to go out and retrieve the dead and wounded.
After returning to the States in 2006, Padilla says his wartime experiences were part of the reason he put solar panels on his house.
Unlike some of his colleagues, he doesn't think the United States went to war in the Middle East for oil.
But serving there and seeing the massive amounts of fuel consumed by the military each day, powering everything from tanks to electricity generators, drove home how much oil this country uses.
"It would be naive to think that some of the money we spend doesn't find its way into the bad guys' hands," says Padilla, who saw heavy fighting as an Army medic in the Iraq city of Ramadi. "If I can do my part to cut that down a little bit, then that's hopefully one less person getting shot at, like I had to go through."
Padilla isn't the only veteran switching to solar. A survey by the solar power company SunRun found that 25% of its clients were former military.
No one knows for sure why, but SunRun has a theory:
"'Veterans have a heightened awareness of U.S. dependency on foreign energy as a source of global conflict," says SunRun spokeswoman Susan Wise. "In their minds, solar is a way to have energy independence in their lives."
Energy independence wasn't Padilla's main motivation, though -- it was cost.
Using solar panels has cut his electricity bill down from $200 a month to about $30 -- the monthly lease for the panels.
Padilla also put $1,000 down towards the 15-year lease from Solar City, a firm that provides homeowners with solar power.
In essence, he no longer has an electric bill, just that lease payment.
"You can't beat that," says Padilla, standing in the driveway of his three-bedroom home with his wife Letitia. "We need as much money as we can get."
He realizes that electricity is made mainly from domestically produced coal, natural gas or nuclear power, not from imported oil.
Much of U.S. oil consumption comes from driving, but he believes switching to solar is a good first step in weaning himself off fossil fuels in general.
Once electric cars become better and cheaper, he says he'll buy one of those as well. For now, the electric car's range is too small to take him to his current job as a medic on television and movie sets around Hollywood.
Padilla still has vivid memories about his time working as a medic in Iraq and he doesn't mind talking about them.
When he served there it was too violent for him to go out in a normal Humvee ambulance. Instead he used a converted Vietnam-era armored personnel carrier.
During his ten months in country he treated about 50 U.S. solders, he says, one of whom died. There were many more Iraqis requiring medical attention -- he can't keep count of how many he helped.
Although it sounds cold, Padilla says it was easier to treat wounded Iraqis than American solders.
"I didn't treat them any differently," he says. "But mentally, it just didn't affect you the same way as someone you are closer with."
He says he never shot anyone, although he shot at a lot of people as a means of keeping them back.
He's equally honest about where he thinks the U.S. government should be spending its money in a time of budget slashing.
Padilla's solar panels make so much financial sense because about half the cost is subsidized by the state and federal governments. Last year Washington spent some $11 billion subsidizing renewable energy -- mostly big wind and ethanol projects.
Although most of that money dodged this latest round of budget cuts, they are a perennial target for budget-conscious lawmakers.
Padilla says cutting those subsidies would be a terrible idea.
"It's looking to the future," he says. "There's no downside to putting panels on our roofs and getting free electricity from the sun."