Dow bolstered by J&J earnings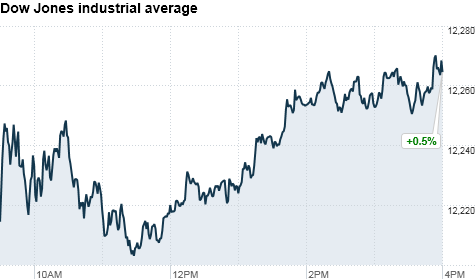 NEW YORK (CNNMoney) -- Stocks posted modest gains on Tuesday, following Monday's sharp selloff, as investors' attention turned to corporate earnings and the latest housing reports.
"The market continues to focus more broadly on earnings, which so far this season have been mixed," said Peter Cardillo, chief market economist with Avalon Partners.
The Dow Jones industrial average (INDU) added 65 points, or 0.5%, to 12,267. The S&P 500 (SPX) gained 7.5 points, or 0.6%, or 1,313; and the Nasdaq Composite (COMP) added 10 points, or 0.4%, to 2,745.
Johnson & Johnson (JNJ, Fortune 500) was the top performer on the Dow, with shares rising more than 3.5%, after the company reported better-than-expected sales and earnings. Alcoa (AA, Fortune 500), Caterpillar (CAT, Fortune 500) and DuPont (DD, Fortune 500) were other big gainers.
Traveler's (TRV, Fortune 500) was the biggest drag on the blue-chip index, falling 1.4%.
Shares of Harley Davidson (HOG, Fortune 500) sank nearly 5%, making it the S&P 500's biggest loser on disappointing earnings, while the Nasdaq was weighed down by Seagate Technology (STX), which reported an 82% drop in quarterly profit.
"The start of this earnings season has been one of the poorest in recent memory, but the market seems to be handling it pretty well," said Fred Dickson, chief market strategist with D.S. Davidson & Co.
Investors also focused on commodities, with oil climbing more than $108 a barrel, and gold striking $1,500 an ounce for the first time ever.
Stocks logged their biggest decline in a month Monday, after investors were spooked by the outlook for U.S. debt getting slashed by Standard & Poor's.
Economy: The Commerce Department said housing starts and building permits both increased more than expected in March.
Housings starts jumped 7.2% to an annual rate of 549,000 in March, while building permits climbed 11.2% to a rate of 594,000.
Homebuilders rose on the news, with Pulte Homes (PHM) shares rise 5% and KB Homes (KBH) shares up 3% among others.
Companies: Shares of Wall Street giant Goldman Sachs (GS, Fortune 500) fell 1.3%. The firm reported a 21% drop in net income to $2.7 billion, and said it sees "encouraging indications" for global economic activity.
Texas Instruments (TXN, Fortune 500) shares fell 0.7%, after the company reported first-quarter earnings that missed analysts' estimates late Monday. The company cited the earthquake in Japan, saying it impacted consumer demand and production during the quarter.
After the bell, investors got a trio of earnings from technology giants Intel (INTC, Fortune 500), IBM (IBM, Fortune 500) and Yahoo! (YHOO, Fortune 500).
Shares of Intel jumped 5% in the after-market action following the chipmaker's earnings results. Intel reported a profit of 59 cents a share, compared with the 46 cents analysts had expected.
IBM shares rose 4% in post-market trading after the company said it earned $2.41 a share in the first quarter, beating the $2.29 analyst forecast. IBM also lifted its full-year view.
Yahoo! posted a profit of 16 cents a share, besting analysts' results by a penny. Shares of the Internet portal company rose 3% on the results.
Currencies and commodities: The dollar fell against the euro and the British pound, but gained versus the Japanese yen.
Oil for May delivery rose $1.03 to settle at $108.15 a barrel. Oil for June delivery, which becomes the active contract Wednesday, gained 59 cents to $108.28 a barrel.
Bonds: The price on the benchmark 10-year U.S. Treasury rose, pushing the yield down to 3.36% from 3.41% late Monday.
World markets: European stocks closed modestly higher. Britain's FTSE 100 gained 0.5%, the DAX in Germany added 0.2% and France's CAC 40 advanced 0.7%.
Asian markets ended the session sharply lower, as foreign investors reacted to S&P downgrading the United States' credit outlook. The Shanghai Composite dropped 1.9%, the Hang Seng in Hong Kong tumbled 1.3%, and Japan's Nikkei fell 1.2%.