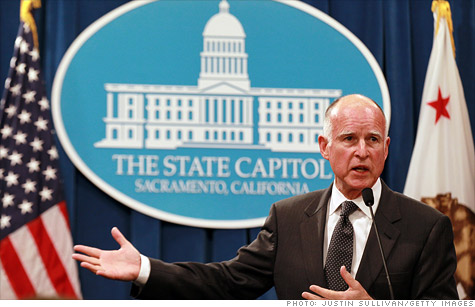 California Governor Jerry Brown faces some tough budget decisions despite higher-than-expected tax revenues.
NEW YORK (CNNMoney) -- California is enjoying an unexpected $2.5 billion spike in tax revenue, which could help the state close its massive budget shortfall.
But the Golden State is not out of the deficit woods yet. Governor Jerry Brown is expected to unveil a new budget plan on May 16, based on updated projections for revenue and spending, that could contain draconian cuts.
The revenue surge mainly stems from an increase in personal income taxes, which are running $2.3 billion higher than projected for the first 10 months of the fiscal year, the Legislative Analyst's Office reported this week.
The other two major tax categories are not feeling quite as flush. Sales tax income is running $225 million above forecast, but because of timing issues, the office considers collections as being close to forecast.
Corporate income taxes, meanwhile, are running $654 million below projections.
After years of dismal tax revenues, states are currently benefiting from a bump in collections, thanks to the rebounding economy and stock market. State tax revenue rose by 7.8% in the fourth quarter of 2010 from the same period a year earlier, according to the Rockefeller Institute of Government.
California, however, has had to contend with a $26 billion shortfall for the remainder of fiscal 2011, which ends June 30, and the following year.
Lawmakers in March approved measures -- including major spending cuts -- to close about $14 billion of the deficit, but are divided over how to address the remaining gap. Brown, a Democrat, wants residents to vote on extending higher sales and personal income tax rates. But Republican lawmakers have refused to give him the votes needed to put the issue on the ballot.
While the increased tax revenues is certainly good news, experts cautioned that tough decisions still lay ahead.
"It only represents a down payment on the big budget problems facing the state," said director of fiscal studies for The Rockefeller Institute.
California might still have to make major cuts to education and other government services to eliminate its shortfall. Higher tax receipts alone won't do the trick.
"Even if there is an increase [in revenues], it's not going to close all of the budget problems," said Jason Sisney, the legislative office's director of state finance.
Also, the jump in collections may not last, said H.D. Palmer, spokesman for the state Department of Finance. The state learned this the hard way a decade ago when the dot-com bubble, which kept California rolling in revenue, came to an end.
"There's no guarantee the bump in revenue will be ongoing," Palmer said.