'Flash crash' worries go global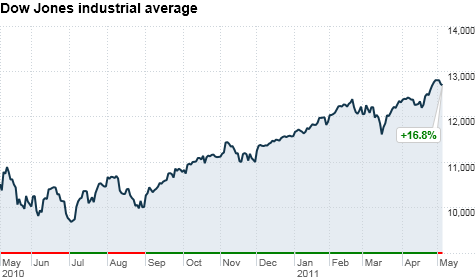 NEW YORK (CNNMoney) -- On the one-year anniversary of the infamous 'flash crash' that sent the Dow industrials plunging nearly 1,000 points in less than 20 minutes, questions remain about how prepared markets around the world are to stop a similar event.
"The SEC has done a good job to create an infrastructure, but in other markets creating this type of infrastructure is not as easy," said Larry Tabb, CEO of the Tabb Group, which tracks the exchange industry.
In the aftermath of the May 6 flash crash, the Securities and Exchange Commission established new rules -- including expanding the use of "circuit breakers" to include exchange traded funds and stocks. Circuit breakers halt trading when a stock or an index falls by a certain percentage in a short period of time.
As U.S. regulations were being shored up, volatility and volume on U.S. exchanges was drying up. And that was forcing high frequency traders to seek out other markets, largely in emerging economies. But that shift could be leaving those exchanges vulnerable to a 'flash crash' scenario.
In the May 6 flash crash, all it took was one trader who accidentally tried to sell a massive amount of a security tied to the S&P 500 index. That led to a cascading amount of sell orders throughout the market.
High-frequency trading remains a high-growth source of revenue for stock markets in developing economies, and stock exchanges in countries such as Brazil, Russia and South Africa are increasingly marketing themselves as venues for that type of trading. Russia unveiled a new trading platform in February, while Brazil cut its fees for high-frequency trading late last year.
And the Osaka Stock Exchange launched its own high-frequency and algorithmic trading platform in February.
"The global trend is toward increasing algorithmic trading at all exchanges worldwide," said Roman Goryunov, CEO at Russia's RTS Stock Exchange.
Global stock exchange volumes are up 10% so far this year compared to a year ago, according to the World Federation of Exchanges. And nearly all that growth came from outside the United States.
Goryunov said 60% of his exchange's volume now comes from high-frequency trading, and he expects that to rise.
"Even though the Russian market is at the very early stage of [developing high-frequency trading technology], the growth potential is huge," Goryunov said.
BM&F Bovespa, the parent company for Brazil's stock, commodities and futures exchanges, posted a 10% increase in overall revenue last year -- helped by a 70% surge in daily trading volume.
But how prepared are these exchanges to handle all that extra volume?
Goryunov said his exchange in Russia has developed preliminary barriers, such as order limits to stop the possibility of a flash crash-like event, and is working to put in additional regulations.
Interestingly, Brazil has actually lowered trading fees in an effort to increase high-frequency trading volume. While the exchange has also put in some order limit regulations, lower fees heighten the possibility of a flash crash occurring.
Experts say exchanges should be working together.
"There really needs to be cross-region regulation among the world's exchanges, but that hasn't happened," said Matthew Samelson, CEO of Woodbine Associates, a capital markets research firm.
Tabb doesn't think the growth of high-frequency trading in emerging markets would directly lead to a flash crash. However, there is some concern about U.S. or Europe-based ETFs that directly invest in these markets, because many of them are dependant on high-frequency trading systems.
"If for some reason there's sudden movement in one of these ETFs, it could cause that country's local cash equities market to go," Tabb said. But it wouldn't have much impact on U.S. investors, experts say.