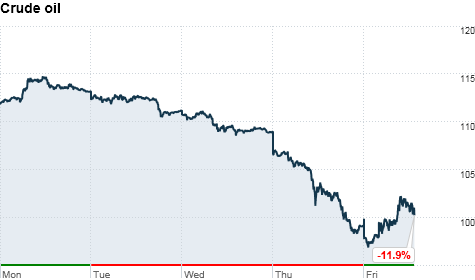 Stephen Schork saw prices surging past $110 a barrel and thought it wasn't sustainable. This is how he cashed in.
NEW YORK (CNNMoney) -- For the last several weeks, oil trader Stephen Schork has been betting that prices would fall. Instead, they kept rising. And every day they ticked higher, he lost money.
On Monday his luck finally turned around. Prices started to collapse and have slid 12% in the span of a week. On Friday, oil prices fell 2.6% to settle at $97.18 a barrel, the lowest level since mid-March.
The sell-off is prompting many analysts to think oil may have peaked. There's simply too much oil on the market and not enough demand, said Schork.
"We looked at the fundamentals, and from a demand point of view, prices had reached a tipping point," he said. "This was more of a speculative rally fostered by the weak dollar. We didn't think that was sustainable."
Oil prices had jumped from less $85 a barrel in mid-February to over $110 a barrel in March as violence swept the Middle East. And prices largely stayed above $110 a barrel...until this week.
"I was short all the way into the rally," said Schork, "Now I'm starting to take profits."
He wouldn't say how much money he's made in his own account over the last few days. But Schork, who also buys and sells oil for wealthy clients, says the average size of a typical client account is in the hundreds of thousands of dollars.
How'd he do it? Once he decided the fundamentals weren't supporting $100 oil, he began 'shorting' oil by selling into the market and taking an aptly named 'short position.'
There are also those who bet on the opposite happening and take a 'long position.' Many of those bets are placed by investors such as pension funds, index funds or mutual funds.
These investors have been plowing money into commodities of all stripes over the last few years, sometimes as an inflation hedge, sometimes as a long term investment, or sometimes simply as a means to diversify. It's this category of investor that some blame for artificially driving oil prices higher.
Schork is certainly a speculator, but he's the type that takes both long and short positions. Analysts generally credit these types of speculators as providing "liquidity" in the market, meaning they step in and take positions when there's a gap between the actual producers and consumers of oil.
When Schork started shorting oil, he'd sell a contract for, say, $110 a barrel. This contract -- for 1,000 barrels of oil -- would need to be delivered at the end of the month.
The buyer who's 'long' is hoping that oil will be worth more than $110 by that time, so he'd make money. Schork was betting it would be worth less than $110, thereby costing him less to deliver the 1,000 barrels at the end of the month and letting him pocket the difference.
Of course, in the futures market, speculators rarely take physical delivery of the oil, but rather just even out their accounts at the end of each month by offsetting their long positions with short ones, or vice versa.
Schork has been doing this for two decades. He got his start as a trader for Glencore, the Swiss commodities company, then worked for a bit on the NYMEX floor.
In addition to trading oil and managing accounts, Schork also publishes a daily subscription-based newsletter on the oil markets.
While retail investors can get expose to oil trading through exchange-traded funds, he cautions investors against buying actual futures contracts.
When someone comes to him asking him to manage their money, "the first thing you do is try to talk them out of opening an account," he said. "This is a very risky endeavor. The payoffs can be huge, but so can the losses."