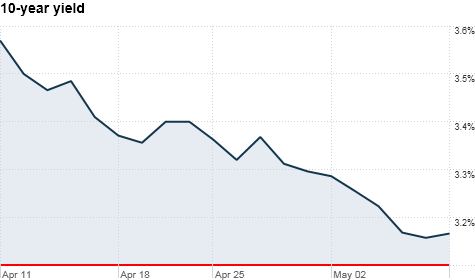 Click the chart for current Treasury yields.
NEW YORK (CNNMoney) -- The tug of war between the economic recovery and inflation kept bond traders sidelined Monday, as they waited for $72 billion of auctions this week.
The yield on the benchmark 10-year Treasury note held steady at 3.15%. It wasn't that long ago that the yield was closer to 4%.
In fact, just a couple of weeks ago, the 10-year yield was hovering around 3.6%, as investors fear that higher gas prices will result in broad-based inflation and slow economic growth.
Some experts don't think inflation is really a major threat. But there is underlying uncertainty about what will happen to the Treasury market once the Federal Reserve ends its $600 billion bond-buying program, known as QE2, in June.
Since Treasuries are considered a safe-haven in times of economic uncertainty, both camps have pushed up demand for U.S. bonds and sent yields lower recently.
"The expectation that the economy is weakening, and that we go into the end of QE2, may mean there's a reallocation of money back into bonds," said Michael Cheah, bond fund manager at SunAmerica.
Fears about Europe's debt crisis also remain on the table. Late last week, rumors that Greece might abandon the eurozone offset solid U.S. payrolls data and pushed bonds higher. Early Monday, Standard & Poor's cut Greece's credit rating yet another notch.
"European debt problems are definitely on the market's mind right now," said Guy LeBas, chief fixed income strategist at Janney Montgomery Scott.
With the auctions coming down the pike this week, the market could be a little choppy as traders often try to push prices down and yields higher to get the best deal at auction.
The Treasury Department will sell $32 billion of 3-year notes Tuesday, $24 billion of 10-year notes on Wednesday and $16 billion of 30-year bonds on Thursday.
What other yields are doing: The 2-year yield fell to 0.55%, the 5-year yield slipped to 1.85%, and the 30-year yield rose to 4.31%.