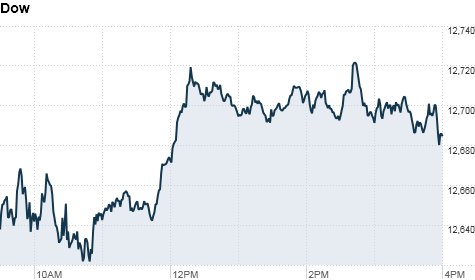 Click the chart for more market data.
NEW YORK (CNNMoney) -- U.S. stocks rose Monday as commodity prices regained ground, overshadowing worries about the fiscal crisis in Greece that hung over the market.
The Dow Jones industrial average (INDU) rose 46 points, or 0.3%, to 12,684. The S&P 500 (SPX) gained 6 points, or 0.5%, to 1,346. The Nasdaq Composite (COMP) advanced 15 points, or 0.5%, to 2,843.
After a sharp sell-off last week, commodities rebounded Monday. Oil jumped 5% to above $102 a barrel. Silver prices gained 6% and gold rose over 1%.
"Oil lifted this morning and, as a result, we saw a move back into the highly cyclical areas," said Kevin Rendino, a senior portfolio manager at BlackRock, pointing to companies in the energy and materials sector.
Shares of Alcoa (AA, Fortune 500), Caterpillar (CAT, Fortune 500) and Chevron (CVX, Fortune 500) were among the top performers on the Dow. McDonald's (MCD, Fortune 500) rose nearly 1% after the fast-food chain said sales rose 6% in April.
But the blue-chip average was hobbled by shares of Intel (INTC, Fortune 500), which fell nearly 2%. Bank of America (BAC, Fortune 500) and JPMorgan (JPM, Fortune 500) were also weak.
With no major U.S. economic reports on tap Monday, investors were focused on worsening fiscal problems in Greece.
Standard & Poor's cut Greece's credit rating again, and warned that many of the nation's banks are at risk of further downgrades. That came on the heels of rumors last week that the debt-ridden country could abandon the euro or seek another bailout.
"Greece is clearly on the forefront of investors attention today," said Rendino. However, he added that the downgrade was not surprising, and the nation's economic woes are nothing new.
In the United States, traders were waiting for more clarity about the state of the economy. Indicators have been mixed recently, with signs of weakness in the services sector and a surprisingly strong employment report on Friday.
"There's more fear in the market that we're in for a summer slowdown," said Paul Zemsky, head of asset allocation at ING Investment Management.
Investors are particularly concerned that the recent spike in gas prices could stifle consumer spending and undermine the economy. As such, a report due Thursday on retail sales will receive extra scrutiny, said Zemsky.
But overall, "we're still bullish on risky assets," such as stocks, he said.
Stocks edged higher Friday, as the dollar rallied and investors responded to a stronger-than-expected jobs report.
But all three indexes closed down more than 1% for the week, as weakness in commodities -- especially silver and crude -- spilled over into the broader market.
Companies: Citigroup (C, Fortune 500) conducted a 1-for-10 reverse stock split after the closing bell Friday, meaning that the number of shares outstanding were reduced to bolster the stock price. Citi's stock edged lower in early trading to $44.75. Last week, it was trading at around $4.50 a share.
Citi shares fell 1%.
Shares of Dollar Thrifty (DTG) surged nearly 12% after Hertz (HTZ, Fortune 500) announced a new offer to buy the rival rental car company.
Tyson Foods (TSN, Fortune 500) reported earnings per share that beat analysts' estimates by a penny, but the company missed on revenue. Shares fell 6%.
Economy: Among the key reports due later in the week are the March trade balance, due Wednesday, the April retail sales figures on Thursday and a reading on April consumer prices slated for Friday.
World markets: European stocks fell as investors continued to fret about Greece's debt problems. Britain's FTSE 100 edged down 0.6%, the DAX in Germany fell 1.1% and France's CAC 40 slid 1.3%.
Asian markets ended mixed. The Shanghai Composite edged up 0.3% and the Hang Seng in Hong Kong rose 0.8%, while Japan's Nikkei slid 0.7%.
China will release its latest trade gap figures overnight. Meanwhile, Treasury Secretary Tim Geithner began two days of meetings with Chinese leaders about economic issues, likely to include discussions about the yuan-dollar relationship.
Currencies and commodities: The dollar edged up against the Japanese yen, dipped against the euro and was little changed against the British pound.
Oil for June delivery gained $5.51 to settle at $102.69 a barrel.
Gold futures for June delivery rose $16.70 to close at $1,507.90 an ounce.
Silver futures for July delivery rose $2.18 to end at $37.47 an ounce.
Bonds: The price on the benchmark 10-year U.S. Treasury edged up, pushing the yield down to 3.14%.