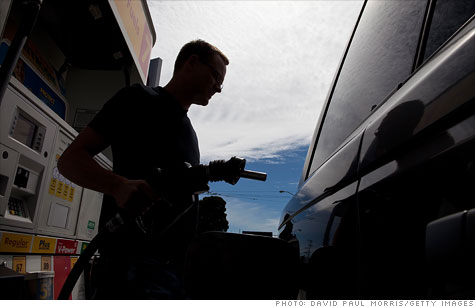 Neither more oil drilling nor eliminating tax breaks for the big oil companies will lift the burden of high gas prices from drivers.
NEW YORK (CNNMoney) -- Despite all the noise coming from Congress over high gas prices, oil company profits or more drilling, in reality there's very little lawmakers can do to bring down the price of fuel.
Two energy proposals in Washington are getting lots of attention as gasoline once again nears record highs and oil company CEOs from Exxon (XOM, Fortune 500), Shell (RDSA), Chevron (CVX, Fortune 500), BP (BP) and ConocoPhillips (COP, Fortune 500) get paraded before Congress.
Republicans want to open more areas of the country for oil drilling, while the Democrats are fixated on eliminating tax breaks for the worlds biggest oil firms.
The two parties are so far apart that neither proposal stands much chance of passing. But even if they both did, would either actually do anything to bring down the price of gasoline?
"Absolutely not," said Addison Armstrong, director of market research at Tradition Energy, an energy brokerage based in Stamford, Conn.
More drilling: Armstrong believes more oil production in this country could eventually stabilize and bring down gas prices, but that it would take at least five years to build the infrastructure to get that extra oil to market.
Plenty of people disagree with that. They say the country just doesn't have enough oil to make a dent in worldwide consumption.
Plus, any extra oil the country did produce would likely be quickly offset by a cut in OPEC production.
The United States currently produces just under 10 million barrels of oil a day and uses about 20 million. Worldwide oil consumption is pegged at around 89 million barrels a day.
According to a 2009 study from the government's Energy Information Administration, opening up waters that are currently closed to drilling off the East Coast, West Coast and the west coast of Florida would yield an extra 500,000 barrels a day by 2030.
After OPEC got done adjusting its production to reflect the increased American output, gas prices might drop 3 cents a gallon, the study said. Hardly the relief motorists are looking for.
The industry thinks it could get far more than 500,000 barrels a day. If all land that isn't a national park were opened to drilling, the American Petroleum Institute says an extra 2.8 million barrels a day might be possible by 2025.
That would certainly create a lot of jobs, lower the trade deficit and boost oil company profits. But even API wouldn't speculate on what it might do to gas prices.
"How would that play out in the market, what impact would that have on prices, we just don't know," Rayola Dougher, API's senior economic advisor, recently told CNNMoney.
Eliminating tax breaks: The only thing that might have less of an impact on gas prices than the Republican's proposal is the Democrats' call to eliminate tax breaks.
Originally it might have had a shot. President Obama has called for eliminating $4 billion in tax breaks for the entire oil industry each year he's been in office. He wants to use the money to fund conservation efforts and alternative energy technology.
An extra $4 billion for alternative fuels would go along way in boosting this country's research into those areas -- the government currently spends around $12 billion a year subsidizing renewable energy programs.
Plus, since the United States is such a large consumer of energy but only holds a fraction of the world's oil reserves, many say the country's role in lowering gas prices should center around conservation.
But that plan to plow these oil company billions into alternative energy is now scrapped.
Senate Democrats, sensing an easier political fight, have instead called for just $2 billion in tax breaks to be eliminated for the top five oil companies. The money would now be used for deficit reduction.
How that helps bring down gas prices, well, that's a question for Congress.