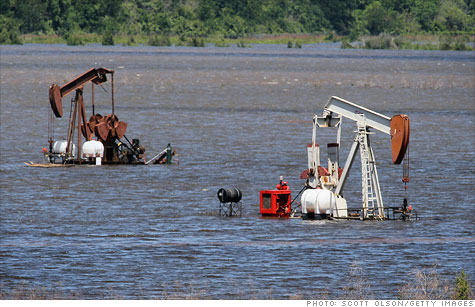 Opening the Morganza spillway is putting hundreds of oil wells under water, but hopefully saving a big chunk of the nation's ability to make gasoline.
NEW YORK (CNNMoney) -- Nearly 15% of the nation's refining capacity and hundreds of oil wells are at risk as the flood crest along the swollen Mississippi river makes its way into Louisiana over the next few days.
Flooded refineries would have the most impact on the nation's oil infrastructure and, hence, could send gasoline prices higher.
Eleven refineries -- producing over 1 million barrels of gasoline a day -- lie in the flood water's path, according to American Petroleum Institute Chief Economist John Felmy.
In total, the U.S. produces about 8 million barrels of gasoline a day.
Refiners are busy fortifying the facilities with earthen berms and other measures to protect the multi-billion dollar plants, and major damage is not expected.
But barge traffic, crucial in getting crude supplies in and gasoline out of the plants, might be impacted for up to several weeks. Engineers fear the wakes from large boats could cause water to overflow the levy banks, and have restricted barge traffic already.
If refinery operations are disrupted further, a spike in gas prices is possible.
"Will there be a major supply cut, we just don't know yet," said Felmy. "But 13% or 14% of refinery output, that's significant."
What will hopefully prevent the refineries from being flooded is an Army Corps of Engineers plan to open the spillway in Morganza, some 45 miles north or Baton Rouge.
It's hoped that opening this spillway will prevent Baton Rouge, New Orleans and all the other towns along the Mississippi - including most of the refineries -- from flooding too badly.
Exxon (XOM, Fortune 500), Citgo, CononcoPhillips (COP, Fortune 500), Marathon oil (MRO, Fortune 500), and Royal Dutch Shell (RDSA) are among the companies with refineries in Louisiana.
The spillway is already partially opened, and more gates are expected to open up as the flood's crest hits the region Saturday.
But opening the spillway has sent the water gushing into the Atchafalaya Basin, a vast swamp and forest tract that runs from just west of Baton Rouge down to the Gulf of Mexico, some 125 miles to the south.
Residents of this area are facing the worst of the flood, as are the nearly 600 producing oil and gas wells that dot the region, many of which are already under water.
Although production is not significant on a national level, the wells do produce over 20,000 barrels of oil a day, according to the Louisiana Department of Environmental Quality.
Moreover, they were designed to operate on dry land. Concerns are mounting that the flood waters could damage the wells permanently or spill oil into the environment.
"There needs to be continuous monitoring in place," said Jill Mastrototaro, Gulf Coast campaign director for the Sierra Club. "And if something does go wrong, they need to have the resources in place to counter any leakage."
Louisiana's environmental agency said it has a plan in place.
All oil wells built in flood-prone areas have to have storm chokes installed to shut down the well in case of emergency, an agency spokeswoman said in an email.
Nearly a third of the wells are already shut in, she said, and the agency has been in touch will all the owners via email and phone. Appropriate steps are being taken to secure the wells.
Still, given past regulator coziness with industry and recent high-profile examples of oil wells going out of control, Mastrototaro remains skeptical.
"Just because DEQ says everything is fine doesn't mean disaster will be averted," she said. "The jury is still out."