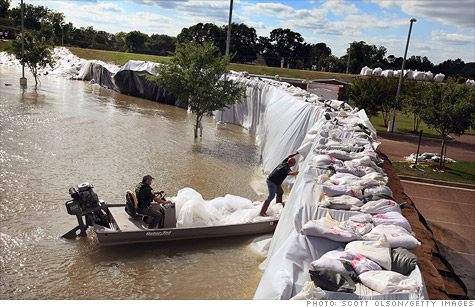 An inspector in Vidalia, La., checked a levee on May 16 that was protecting a medical center from flood waters.
NEW YORK (CNNMoney) -- More than $2 billion worth of residential properties face potential flood damage from the opening of the Morganza Spillway in Louisiana, according to a new study.
The effort to divert the swollen Mississippi River could flood 21,272 homes, inflicting damages of over $2.2 billion, says an analysis by financial research firm CoreLogic. These homes are in the path of deliberate flooding on the part of the U.S. Army Corps of Engineers, which has opened 17 bays along the Morganza Spillway to flood rural areas with the intention of sparing the cities of New Orleans and Baton Rouge. (Flood insurance: Taxpayers may be on the hook)
The study said that 11% of the homes in the Morganza and Atchafalaya parishes could be flooded. In three of the nine towns within these parishes, the percentage of flooded homes is much higher. (Oil wells in path of destruction)
In the town of Assumption, 2,899 homes are at risk, totaling more than $222 million in potential damage. That's 34% of all homes within that town. In the larger city of Terrebonne, 22% of all homes are at risk, which is equal to 10,324 homes with a combined value of nearly $1.3 billion. In Saint Mary, 3,777 homes totaling $317 million are at risk, representing 22% of all homes.
The study also determined that 21% of these soon-to-be-flooded homes are not located in the special flood hazard areas designated by the Federal Emergency Management Agency. A total of 4,528 properties worth about $404 million are outside of these federal flood zones.
The 100-year flood zones are areas determined by FEMA to have a 1% annual chance of flooding. These designations are significant because a Congressional law, passed in 1973, directs mortgage lenders to require residents of flood zones to purchase flood insurance.
Howard Botts, director of database development for CoreLogic, estimates that up to 50% of the homes in the non-FEMA flood zones do not have flood insurance.
The town likely to be hit hardest in non-FEMA flood zones is St. Mary, which has 2,038 homes outside the flood zone worth more than $156 million facing potential flooding, according to CoreLogic.
The U.S. has been slammed by natural disasters in the last two months. In the most recent disaster, a tornado ripped through Joplin, Missouri, killing at least 89 people and leveling much of the city.
This year was a relatively calm one in the U.S. for natural disasters until April, when the South and the Midwest were lashed by three separate storm systems, each of them causing more than $1 billion worth of damage, according to Aon Corp. The most recent of these storms featured 178 tornadoes and killed at least 300 people, many of them in Alabama, a state that suffered $1 billion worth of damage alone. Altogether, the April storms may have caused up to $5 billion worth of damage.
Unlike the tornado-stricken residents of Joplin, the people living in areas along the Mississippi River at least have some warning of their impending disaster. Although that provides little comfort to residents in the spillway zone.
"Clearly, in the minds [of these residents], this is a political tradeoff to protect Baton Rouge and New Orleans," said Botts. "They are concerned that they are being sacrificed at the expense of their urban neighbors."
On May 16, CNN reported that Louisiana residents within the spillway zone posted this sign outside their doomed home: "Hope you appreciate this Baton Rouge. You're welcome."