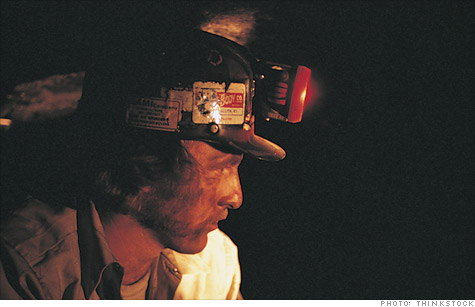 NEW YORK (CNNMoney) -- West Virginia's coal industry helped insulate the local economy from the worst of the recession, but now the state could be in danger of losing that crutch.
As other states face major budget shortfalls, West Virginia is expecting a surplus for the fourth year in a row. It hasn't had to lay off state employees, and it boasts one of the strongest rainy-day funds in the country -- mostly due to a run-up in coal prices over the last few years.
But West Virginia is dealing with a crisis of its own, as its coal industry faces increased competition from other regions and heightened scrutiny from government regulators.
The federal government predicts coal production in Central Appalachia -- which includes West Virginia's southern coal fields -- will decline 40% in the next five years, resulting in the loss of thousands of jobs there.
That could be a death knell for places like Boone County, where roughly 3,800 of its 8,600-person workforce are employed by 93 mines. And that doesn't include jobs that support the industry indirectly.
"If you take coal out of the county, you might as well turn the lights out," said Larry Lodato, director of the Boone County Community and Economic Development Corporation.
Like much of West Virginia, Boone County is stuck in a quandary. The area reaps enormous financial benefits from coal, but its dependence on the industry leaves it vulnerable.
"You can imagine the area becoming a complete ghost town," said Rory McIlmoil of Downstream Strategies, an independent environmental research firm based in West Virginia. "Without any political support for creating new jobs in those areas, that is a definite possibility."
The coal industry accounts for most of the local jobs and offers a decent wage, often to workers with little more than a high school degree. Coal miners, on average earn about $68,000 a year, more than twice the median average for the state.
Boone County coffers took in roughly $4 million in severance taxes from coal companies last year -- money that Mickey Brown, a Boone County commissioner, said it has used to build water pipelines, sewer services and community centers.
"A lot of the money goes to benefit the people," he said.
Over the last few years, the county's financial rewards rose rapidly with surging coal prices For the entire state, severance taxes have surged 200% since 2004.
But many experts fear that West Virginia's coal windfall could quickly deteriorate.
Other regions are starting to mine coal more efficiently and at lower prices, and that's shifting production to other parts of the country, said Mike Mellish, a coal analyst with the U.S. Energy Information Administration.
According to his data, Central Appalachia accounted for roughly 18% of all U.S. coal production in 2009, but that share is expected to decline to 11% by 2015, and 8% by 2035.
Even without competition from other regions, the West Virginia coal industry is on shaky ground, as the state battles a government crackdown on a controversial mining practice called mountaintop removal.
A faster and cheaper process than underground mining, mountaintop removal has environmentalists up in arms because it often leaves coal dust and rubble sliding down mountains into valleys and streams.
After the Environmental Protection Agency vetoed a major mountaintop removal permit last year, the state has been pursuing a lawsuit against the agency, and local lawmakers have even taken the fight to Congress this month, accusing the EPA of an "Assault on Appalachian Jobs."
An uncertain future
If the state loses thousands of coal mining jobs, its residents could face a bleak future.
About 28% West Virginia's income is from government assistance -- more than any other state in the country. It also consistently ranks among the top five states with the highest poverty rates.
In Boone County, local leaders see few alternatives for economic growth there.
"Coal mining is the lifeblood of Boone County and the entire state," Brown said. "Our government is constantly trying to spur off other industries, but nobody's been willing to take a chance here."
The area is mountainous, leaving very little flat land for developing. It's difficult to envision anyone wanting to build a factory, shopping mall or golf course there, Brown said. Plus, most of the land is already owned by the coal companies.
McIlmoil wants the state to create an endowment funded by coal taxes, mimicking models in New Mexico and Wyoming, which have permanent trust funds paid for by local energy companies.
Those funds could be used to fund economic development projects and create alternative job training programs, he said.
"We need new policies in place that generate revenues for investing in economic diversification," he said.