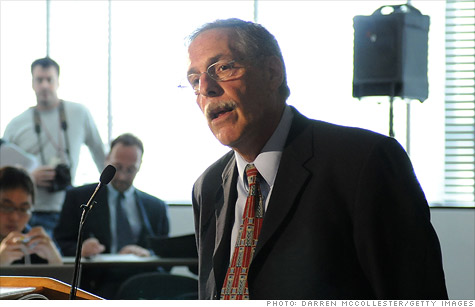 Nobel Prize winner Peter Diamond.
NEW YORK (CNNMoney) -- Nobel prize winner Peter Diamond has withdrawn his nomination to the Federal Reserve, citing opposition by Senate Republicans.
Diamond, a professor at the Massachusetts Institute of Technology and a vocal advocate for the government doing more to address the problems of high unemployment, said in a column in the New York Times Sunday that it is "extremely unlikely that the opposition to a full Senate vote can be overcome."

He criticized both the partisan confirmation process and the lack of understanding about the need to address high unemployment.
"We should all worry about how distorted the confirmation process has become, and how little understanding of monetary policy there is among some of those responsible for its Congressional oversight," he wrote.
The Obama administration first nominated Diamond to be one of the Fed governors in April 2010, and again in September, in advance of him winning the Nobel Prize. He was renominated in January when the new Congress took office.
"We are deeply disappointed that this candidate, who had initially seen bipartisan support, fell victim to partisan obstructionism at this important time for our economic recovery," said White House spokesman Jay Carney.
Diamond has argued that the Fed needs to focus on high unemployment and that the central bank could keep rates very low and pump additional money into the economy without risking inflation. He has also argued for Congress to spend more money to try to spur hiring.
"Concern about the (seemingly low) current risk of future inflation should not erase concern about the large costs of continuing high unemployment," he wrote. "Concern about the distant risk of a genuine inability to handle our national debt should not erase concern about the risk to the economy from too much short-run fiscal tightening."
Diamond's withdrawal comes just days after the government's May jobs report showed weak hiring, which raised new concerns about the economic recovery being at risk.
Sen. Richard Shelby, the Alabama Republican who was one of the leading opponents to Diamond's nomination to the Fed, said that while he commends Diamond's career and accomplishments, he remains opposed to his calls for more stimulus.
"It is my hope that President Obama will now nominate someone capable of garnering bipartisan support in the Senate," Shelby said. "It would be my hope that the President will not seek to pack the Fed with those who will use the institution to finance his profligate spending and agenda."
But Democrats used his withdrawal from the process to attack Republicans.
"With nearly 14 million Americans unemployed, it is disappointing Republicans would rather play politics than help bring the Federal Reserve to full strength," said Sen. Tim Johnson of South Dakota.
Michael Gapen, an economist with Barclays Capital, wrote in a note Monday that the White House's failure to win his confirmation does "highlight the ongoing partisan divide about the conduct of policy," and shows the limited appetite for the Fed taking further action to spur growth.
Diamond was one of three economists to share the most recent Nobel prize in economics, for their work showing how unemployment, job vacancies and wages are affected by regulation and economic policy.
There are currently two openings on the Fed's seven-member board of governors, which is a key policymaking body for the central bank. The governors join with a selection of district bank presidents in setting the Fed's monetary policy.