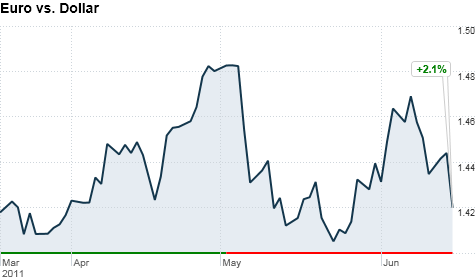 Click chart for more currencies data.
NEW YORK (CNNMoney) -- The euro sank to its lowest level against the dollar this month, as Greek protestors gathered in Athens and some hurled petrol bombs at the Ministry of Finance.
The unrest, and news that European governments had failed to agree on a bailout, pushed the euro to as low as $1.419 against the dollar in early trading Wednesday. Europe's currency had been trading as high as $1.47 against the dollar earlier this month.
But don't get too excited about a sustained rebound for the dollar. While the greenback did show signs of life Wednesday, it remains at very weak levels compared to currencies not called the euro.
The dollar index, which measures the U.S. dollar against a basket of currencies, has fallen 5% so far this year to around 75. That's down from a high near 87 in June of 2009.
Among the factors driving the dollar's malaise at the moment is this summer's blockbuster debate over the debt ceiling, and concerns over the strength of the nation's economic recovery.
Michael Woolfolk, a senior currency strategist at Bank of New York Mellon (BNY), said currency markets on both sides of the Atlantic will be "volatile" this summer as long as Greece's financial crisis and the U.S. debt limit remain unresolved.
The uncertainty over the dual debt crises is driving investors to seek out the Swiss franc, a super safe-haven currency, and commodity-linked currencies like the Australian dollar, Woolfolk said.
All that uncertainty, and the political machinations that accompany it, are going to make for a long summer, said Marc Chandler, global head of currency strategy for Brown Brothers Harriman.
"They are using brinkmanship tactics," Chandler said. "Which means you have to wait for the very last moment to get a deal, something the markets don't like."
So how long will all this drag on? Lawmakers in the U.S. have accelerated the pace of their meetings on the debt ceiling, while facing a deadline of Aug. 2.
The arrival of a Greek bailout is harder to predict, Chandler said, but a series of meetings between European officials scheduled for the remainder of June may yield results.