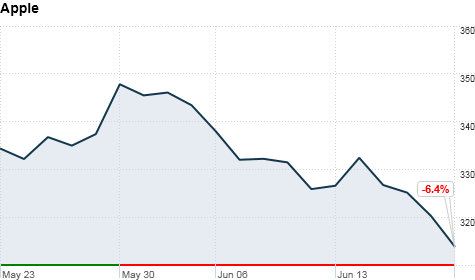 Click chart to track Apple's stock
NEW YORK (CNNMoney) -- A slide in Apple's stock sparked a StockTwits debate about the fair value of the iPhone and iPad maker's shares.
Shares of Apple (AAPL, Fortune 500), which hit an all-time high of $364.90 in February, have been breaking down for several weeks and are down nearly 10% since the start of the month.
Last week, the stock closed below its 200-day moving average for the first time since April 2009. Shares slipped 2.5% Monday.
Meanwhile, talk about Greece remains all the rage...and not in a good way.
European finance ministers said that Greece won't receive fresh loans until mid-July, keeping investors on edge about the possibility of a Greek default.
Though the euro and the dollar were little changed Monday, the currencies remained in the spotlight.
The dollar has been gaining a little traction against the European currency and is up more than 3% versus the euro since the start of May.
That's giving StockTwits users plenty to tweet about:
zimmy818: $AAPL Panic but who am I to fight the trend? What tech company has better growth or is cheaper? What company is better run?
g2sharma:$AAPL in some trouble. An excellent trading opportunity is in the works here for those who are patient.
ldrogen: law of large numbers people, no $300B company can grow Revs indefinitely at 50% YOY, multiples have to come down $AAPL
camfrye: What does the market know about $AAPL?...obviously nothing...since$AAPL beats estimates every time. Just need to buy, and buy more on dips
michaeldavidsen: The markets have priced a probable Greece default into #forex rates. They haven't done so for a US default caused by no budget deal. $EURUSD
krifisk: Another day, another lesson learned. Stop while you're ahead - and don't try to fight the govvies if they want to talk up the $EURUSD
johnjhardy: Juncker confidence that Greek parliament "won't say no". This appears to be he kind of thing driving Euro back higher. $EURUSD #forex