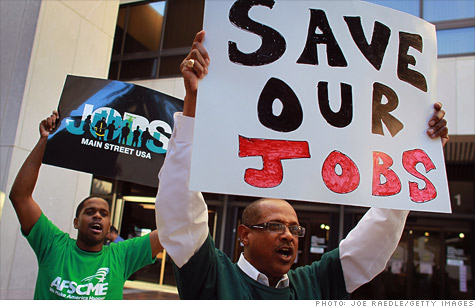 Florida public-sector workers rally in February against Gov. Rick Scott's budget, which called for reducing government jobs.
NEW YORK (CNNMoney) -- Metro economies struggling the most to recover from the Great Recession typically lost government jobs, a new Brookings Institution report found.
Fourteen of the 20 metro areas that have performed the worst since the start of the nation's economic troubles lost government jobs, according to the report, published Wednesday.
They include: Bridgeport, Conn.; Cleveland; Detroit; Grand Rapids, Mich.; Las Vegas; Minneapolis; New Orleans; North Port, Fla.; Palm Bay, Fla.; Phoenix; Riverside, Calif.; Sacramento, Calif., and Toledo, Ohio.
These areas include: Allentown, Pa.; Buffalo, N.Y.; Chicago; Dayton, Ohio; Detroit; Greensboro, N.C.; Harrisburg, Pa.; Las Vegas; Pittsburgh; Portland, Ore.; Providence. R.I., and Scranton, Pa.
Many of these struggling metro areas have other problems, such as falling home prices and rising unemployment overall. But the loss of government jobs has only added to their woes.
Conversely, many metro areas that have done well in recent years have experienced growth in government jobs, the report found.
The study is the latest in a series of warnings from experts who say that cutting deeply into public payrolls can hinder the economic revival.
"This is not the time to be shrinking the size of government," said Howard Wial, a Brookings fellow and co-author of the report. "We're in a very precarious recovery. If we shrink the size of government right now, we'll only make that recovery more precarious."
State and local officials, not to mention members of Congress, have been tripping over themselves to reduce government payrolls.
State and local payrolls have shrunk by an average of 23,000 jobs a month over the past three months, while federal payrolls have stayed essentially flat. Meanwhile, the private sector has created an average of 180,000 a month during the same period.
The worst is yet to come. State and local governments are forecast to shed up to 110,000 jobs in the third quarter, according to IHS Global Insight. That would be the first time above 100,000 job cuts in just one quarter.