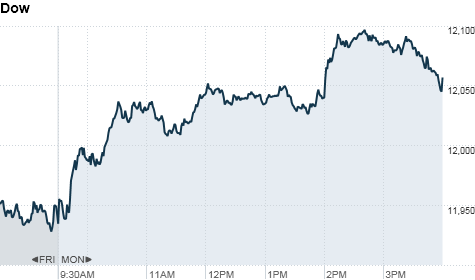 Click the chart for more stock market data.
NEW YORK (CNNMoney) -- Forget having a case of the Mondays.
Stocks started off the week with solid gains, as strength in the technology sector boosted all three major indexes.
The Dow Jones industrial average (INDU) rose 108 points, or 0.9%, with 26 of its 30 components in the black. Microsoft (MSFT, Fortune 500) led the broader index, gaining 3.7%, after the company announced a licensing deal with military contractor General Dynamics (GD, Fortune 500).
Overall, the S&P 500 (SPX) added 11 points, or 0.9%; and the tech-heavy Nasdaq (COMP) rose 35 points, or 1.3%.
Adding to the tech sector's strength, Amazon (AMZN, Fortune 500) shares rose 4.5% after Morgan Stanley issued a bullish report on the company and added the tech giant to its "Best Ideas" list.
The report stated that Amazon's opportunities for global expansion are under-estimated by investors.
Meanwhile, jitters about Greece's debt crisis still hang in the air, but could be overshadowed temporarily by optimism about the upcoming earnings season.
"The market is looking queasy, but that is not unusual as June comes to an end," said Don Hays, chief investment officer for Hays Advisory Group. "Just keep this in mind -- today, the stock market is giving you the best value of any time in the last 30 years, and the earnings of corporate America are up to records and headed higher."
Expect markets to be volatile this week, said Rich Ilczyszyn, market strategist with futures broker Lind-Waldock.
"This is the last week of the month and we have a big holiday this weekend. I'm actually looking for the big boys -- the big traders -- to lighten their loads and reduce some risk probably by Wednesday," he said.
It has been a difficult and choppy three months for Wall Street. The Dow has fallen 3% since March 3, while the broader market S&P 500 index is down 4.3%.
Europe debt crisis: Greece's parliament began a three-day debate Monday on an austerity plan mandated by the European Union and International Monetary Fund. Approval of the plan is required in exchange for a financial rescue package for the debt-stricken country.
Companies: Microsoft (MSFT, Fortune 500) shares surged after the software maker announced a licensing deal, under which military contractor General Dynamics will pay royalties for developing products using Android software.
General Dynamics' Itronix division makes rugged tablets and mobile devices using Android. And although Google (GOOG, Fortune 500) owns that software -- Microsoft has already sued several companies using Android, claiming it infringes on their patents.
Citigroup (C, Fortune 500) said 3,400 of the customers who were hacked in its recent data breach suffered about $2.7 million in losses. The news came after the company said last week it discovered that more than 360,000 accounts had been hacked.
Shares of Chinese company LDK Solar (LDK) surged 4.8%, after the company said it plans to buy back $110 million of its American depositary shares.
Appliance maker Stanley Black & Decker (SWK, Fortune 500) made a $1.2 billion offer to buy Swedish information technology company Niscayah Group. Shares of Stanley Black & Decker rose 0.3%.
Nike (NKE, Fortune 500) shares surged about 4% after the bell, following an earnings report that surpassed Wall Street forecasts. The athletic apparel maker said it earned $1.24 per share in its fiscal fourth quarter, crushing analyst estimates for earnings of $1.16 per share.
Nike's revenue rose 10% to $20.9 billion during the quarter.
Economy: Personal income rose 0.3% in May, the Commerce Department reported Monday. That was slightly lower than the 0.4% economists had forecast, and follows a 0.4% rise in April.
Spending was unchanged in May, after ticking up 0.4% in the previous month. Economists surveyed by Briefing.com were looking for spending to have edged up 0.1% last month.
World markets: European stocks ended mixed. Britain's FTSE 100 ticked up 0.4% and France's CAC 40 rose 0.3%, while the DAX in Germany lost 0.2%.
Asian markets ended mixed. The Shanghai Composite soared gained 0.4%, while the Hang Seng in Hong Kong fell 0.6% and Japan's Nikkei tumbled 1%.
Currencies and commodities: The dollar slipped against the British pound and the euro, but rose versus the Japanese yen.
Oil for August delivery slipped 55 cents, settling at $90.61 a barrel.
Gold futures for August delivery fell $4.50 to settle at $1,496.40 an ounce.
Bonds: The price on the benchmark 10-year U.S. Treasury fell, pushing the yield up to 2.93%, from 2.86% late Friday.