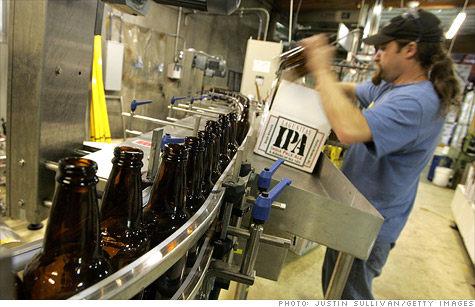 Purchasing managers group says manufacturing activity picked up in June for the second month in a row.
NEW YORK (CNNMoney) -- A key measure of manufacturing activity rose in June, easing some concerns about the impact of the Japanese earthquake on the global supply chain.
The Institute for Supply Management, a purchasing managers group, said Friday its manufacturing index registered 55.3 last month, up 1.8 points from May. The index has been above 50, the level indicating expansion in the sector, for 23 months.
Economists were anticipating weakness in U.S. manufacturing. According to a survey by Briefing.com, the index was expected to register 51.1, down from 53.5 the prior month.
The manufacturing sector has been hit by supply disruptions stemming from the devastating earthquake and tsunami that struck Japan in March. But the rebound in the ISM index over the last two months suggests that the recovery in U.S. manufacturing activity continues.
"The rebound in the ISM index suggests that the adverse effects of the previous surge in oil and commodity prices and the dent to vehicle production caused by supply shortages triggered by events in Japan have started to fade," said Paul Dales, a senior economist at Capital Economics.
Bradley Holcomb, chair of the institute's survey committee, said new orders, production and employment in the manufacturing sector all showed signs of strength last month.
The index also showed that the prices manufacturers paid fell for a second month in a row, with the prices index dropping to its lowest level since August 2010. But the rise in commodities prices this year continued to be a source of concern for many manufactures, he added.
"While the rate of price increases has slowed and the list of commodities up in price has shortened, commodity and input prices continue to be a concern across several industries," said Holcomb.
The report came one day after the ISM said its Chicago purchasing managers index, a measure of business activity in the Midwest, jumped to 61.1 in June from 56.6 the prior month. Economists were expecting the measure to slip to 54.
As the U.S. manufacturing sector shows signs of strength, the Chinese government said overnight that activity in the world's second largest economy has cooled.
The China Federation of Logistics and Purchasing said its PMI fell 1.1 points to 50.9, according to the official Xinhua news service. It was the third monthly decline, the news service said, and came as the Chinese government "fights soaring prices by withdrawing liquidity from the market."