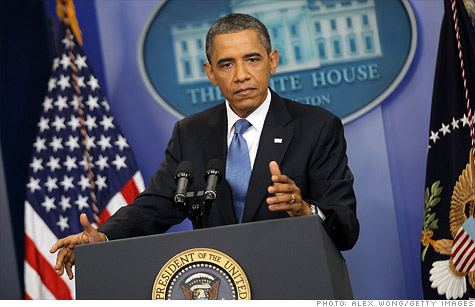 President Obama's executive order asks independent agencies to eliminate outdated rules and regulations.
WASHINGTON (CNNMoney) -- In a nod to Big Business, President Obama on Monday issued an executive order asking independent agencies to rid their books of old and outdated regulations.
The White House made a similar request earlier this year to agencies it oversees. The new order asks agencies that don't answer to the White House to join in this call to cut red tape.
"We are taking immediate steps to eliminate millions of hours in annual paperwork burdens for large and small business and save more than a $1 billion in annual regulatory costs," said Obama in a memo accompanying the order.
The order, which was delivered to independent agencies on Monday, signals the White House's sensitivity to complaints lobbed by big business groups and Republicans -- that bureaucratic red tape and new rules are putting a crunch on job creation.
These groups are especially complaining about rules implementing expanded health care coverage, Wall Street reform and improved air quality standards.
"The combined weight of all these new regulatory activities is something we've never seen before in this country," said U.S. Chamber of Commerce President Tom Donohue at a jobs summit on Monday. "It's unjustified."
But some wonder how effective the new order will be, since it is nonbinding. There's no incentive nor teeth enforcing the order, said Ted Gayer, a senior fellow at the Brookings Institution.
"This order has all the right language, but ultimately it needs more teeth and more direction," Gayer said.
The January order has gotten tepid response at regulatory agencies overwhelmed with putting out myriad new rules and regulations, Gayer said.
A spokeswoman for the Office of Management and Budget pointed to 30 examples of agencies reviewing and in some cases updating outdated rules. For example, Occupational Safety and Health Administration is removing 1.9 million hours of redundant reporting on employers that will save employers $40 million, according to the White House.
She also said that many independent agencies have said they intend to honor the White House's new request.
Gayer said he likes the executive order, because the White House is asking regulators to review the cost-effectiveness of older rules. Generally, regulators review the cost of a rule before it goes into effect, trying to predict its impact.
"The real innovation is the retrospective analysis --- let's go back and try to figure out what the benefits and costs are going to be," said Gayer, an economist who did stints at the Treasury Department and at the Council of Economic Advisers during the George W. Bush administration.
But carrying out the rules is left to the regulatory agencies to figure out, he said.
In a Chamber of Commerce survey of executives running small businesses that make $25 million or less, 79% of those who responded said they believed federal regulations are unreasonable, and 85% of responders said they were worried about the impact of regulations on their businesses.
"We must do more than just examine rules and regulations -- we must cut and fix where necessary," said Rep. Darrell Issa, a California Republican who held a hearing on "job-crushing" regulations earlier this year. His committee's website has collected 900 complaints from businesses about burdensome regulation.