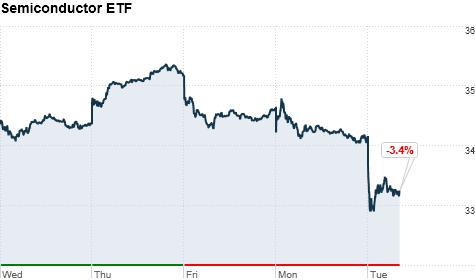 Click the chart for more market data.
NEW YORK (CNNMoney) -- European sovereign debt issues continue to impact market sentiment.
The news hasn't improved overnight, but there are signs that the pace of the euro's decline has slowed.
The relationship between the euro and the U.S. dollar is a closely watched one because of its impact on broader markets. Over the past year, the strengthening euro helped support the broader equity markets.
Meanwhile, earnings season has begun with disappointing results from chip makers Novellus Systems (NVLS) and Microchip Technology (MCHP).
Novellus lowered its next quarter earnings estimates significantly below the consensus estimate, saying that it expects bookings to continue to fall as PC shipments remain soft. The stock was down more than 10% on the news.
Microchip shares slid more than 13% after it also guided down its outlook below the consensus estimate. The company pointed to deteriorating business conditions as the main reason for the weaker than expected results.
Weakness in Novellus and Microchip shares quickly projected into the whole semiconductor sector. As a result, the semiconductor exchange-traded fund $SMH was down almost 3% for the day.
These are some of the themes attracting the most interest on StockTwits Tuesday:
daytrend Anyone who wanted a pullback a week ago and feels obligated to blindly buy, b/c of their earlier analysis, probably won't make it.
DarvasTrader Debt ceilings? European defaults? Tax increases? Don't bother trying to predict, just follow the trend. It's much easier. $STUDY
StockTiger $EURUSD http://chart.ly/uo5rgu4 6E_F Euro futures 240-min RSI back over 30 - if rally happens would be good for US market
Speedsixx Amazed how quickly sentiment changes, when we're soaring, people call for $SPY 150, when we're plunging people call the end of the world
firstadopter If you invest in tech, make sure you listen to yesterday's $NVLS call. It was horrendous. Everyone outside of Apple (AAPL, Fortune 500) is doing horrible.
firstadopter $NVLS call: customer executives mood on investments is deteriorating. More and more pessimistic